USDF/IDA National Quiz Challenge
USDF/IDA National Quiz Challenge
2018 Registration Has Closed
You must be logged in to register
The USDF and Intercollegiate Dressage Association (IDA) have partnered to offer a quiz challenge as part of the annual IDA National Championships. The USDF/IDA National Quiz Challenge is open to all IDA members, who are also USDF members, and focuses on classical dressage theory and training and dressage competition rules. The five highest scoring individuals in each of the four divisions (Introductory, Lower Training, Upper Training and First Level) advance to the finals at the IDA Nationals. A winner is declared in each division, with one grand prize winner. In 2015-2017, Hilltop Farm, Inc. of Colora, Maryland, generously provided a four-week internship at Hilltop Farm as the grand prize for this event. In 2018 they have offered the grand prize winner the option of an internship or intensive training opportunity at Hilltop Farm.
"IDA is very excited to have Hilltop Farm as a sponsor for this program. Having the support of Hilltop Farm shows all of our collegiate members how seriously the dressage community views knowledge of the classical system. We are thrilled with this partnership and excited to see how it has developed over the years," stated Ginger Henderson, Chair of the Equestrian Dept. at Averett University and IDA board member.
Natalie DiBerardinis, General Manager at Hilltop Farm, Inc. added, "Hilltop Farm has always valued our relationships with colleges offering Equestrian Studies Programs and we've been fortunate to have many wonderful interns from these programs over the years. This connection with the USDF/IDA National Quiz Challenge is a wonderful chance for us to continue to offer hands-on experience for college students preparing for a career in the sport horse industry."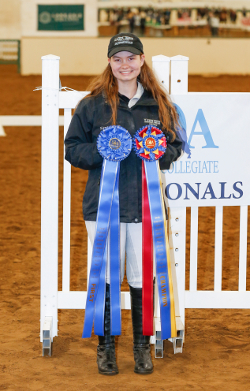 2018 Winners
Grand Prize Winner: Kiersten Pratt, Lake Erie College. Kiersten was the winner of the Upper Training Level Division.
The Level winners were:
Introductory – Erin Diehl, Lake Erie College
Lower Training Level – Morgan Blanyer, Lake Erie College
First Level - Giuliana Raggio, Lake Erie College
Kiersten shared her enthusiasm for the challenge, and the internship, in saying, "Participating in the quiz challenge has given me the incentive to study deeper about dressage theory, which will help me improve my own riding. I'm very honored to have won the internship with Hilltop Farm and I can't wait to learn from some of the best!"
For more information on the USDF/IDA National Quiz Challenge, please contact the USDF Youth Programs Liaison at youth@usdf.org.