Jr/YR
USDF Jr/YR Clinic Series
With funding support provided by The Dressage Foundation and the United States Equestrian Federation
Clinic Registrations are Postponed Until Further Notice
The USDF Jr/YR Clinic Series is an educational opportunity for youth riders striving to compete at FEI levels. The goal of this series is to promote hardworking, talented youth riders who want to rise to the top of the discipline. These clinics are taught by top U.S. riders including George Williams and Anne Gribbons.
Each clinic includes two days of private lessons, theory sessions, and auditing. Riders must submit an online application and eight riders will be selected to participate. Riders should be 14-21 years of age. Riders ages 12-14 competing in FEI Pony classes may also apply. Consideration will also be given to U25 riders if space allows. Auditors of all ages are welcome.
Clinic Dates and Deadlines
For specific clinic information, click the Region link below. If you have any further questions, contact the Jr/YR Clinic Coordinator at (859) 971-2277 or jryrclinics@usdf.org.
Clinic Information
Date
Facility
Clinician
Rider Deadline
Auditor Deadline
Region 2
CANCELED
April 11-12
JKF Dressage
Galena, OH
George Williams
February 28, 2020
March 27, 2020
Region 6
CANCELED
April 25-26
Pirouette Enterprises
Wilsonville, OR
George Williams
March 13, 2020
April 10, 2020
Region 3
CANCELED
May 2-3
Cahuilla Dressage
Madison, GA
George Williams
March 20, 2020
April 17, 2020
Region 4
September 5-6
Whiteland Farm
Delano, MN
George Williams
July 24, 2020
August 21, 2020
Region 5
October 10-11
Reverie Farms, LLC
Longmont, CO
George Williams
August 28, 2020
September 25, 2020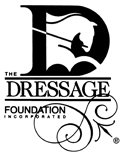 These clinics are made possible with funding support provided by The Dressage Foundation and the United States Equestrian Federation. The Dressage Foundation offers grant opportunities for these clinics. Click here to find out more!
Stay up to date with USDF Youth on Facebook!