History
History of USDF
The American Horse Shows Association (AHSA) and the United States Equestrian Team (USET, now the USET Foundation) were the two primary organizations involved with dressage in the United States until the 1970s. Although dressage competitions had been in existence in prior decades, dressage enthusiasts were concerned that the AHSA, the governing body for dressage, could not give the discipline of dressage the attention it needed to flourish. There was a need to establish uniform standards for the sport, and to provide education to dressage judges, instructors, and trainers. At that time, dressage survived in local and regional clubs found in pockets of interest across the country; however, there was a lack of nationwide communication, interaction, and cohesiveness amongst these groups. In the 1970's it became increasingly apparent that the time was ripe to establish a national organization for the sole purpose of furthering dressage in the United States.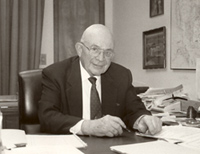 Lowell Boomer, founder of the Nebraska Dressage Association, took action, placing an advertisement in The Chronicle of the Horse, asking "all those interested in the advancement of dressage" to come to Lincoln, NE in February of 1973 to start a national federation. An official roster of registrants listed 70 dressage enthusiasts and several VIPS who traveled to Lincoln that February to collaborate in establishing a national dressage organization. Because of his initiative, Lowell Boomer is known as "the father of USDF".
The first official business meeting of the United States Dressage Federation took place in November of 1973. During that meeting the foundation of USDF was created, including election of the first officials, approval of the organization's original bylaws and committee structure, and development of the mission statement. Over thirty years later, USDF retains the core elements first established in the founding meeting in 1973: the dedication to education, recognition of achievement, and promotion of dressage.