Distance Can't Stop California's Ericka Reinig from Competing at This Year's US Dressage Finals Presented By Adequan® - Entries Close October 25th!
For Immediate Release
Tuesday, October 23, 2018
Source: Yellow Horse Marketing for the US Dressage Finals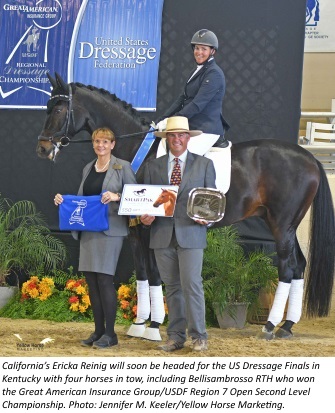 When Ericka Reinig of Rancho Murieta, Cal. arrived on the grounds of last month's Great American Insurance Group/United States Dressage Federation (USDF) Region 7 Championship Show, she was a rider on a mission. All summer, Reinig and her husband Kevin had carefully prepared their horses with one particular goal in mind: to qualify for this year's US Dressage Finals presented by Adequan® in Kentucky. And after an exciting weekend of competition in Burbank, Reinig punched not only one ticket to the Finals but four, and will now embark on the trip of a lifetime to compete on the national stage.
Call her crazy, but Reinig can't wait to travel across the country with a trailer full of horses because making it to Kentucky is the successful achievement of a carefully executed plan. "Everything from the training we did at home to the shows we chose to attend to qualify for Regionals, all was done with this goal in mind to make it to the Finals, and now I can't believe we're about to do this!" said Reinig. "The last time I was in Kentucky was in 2007 for the national young horse championships, long before all the improvements for the World Equestrian Games, so I'm very excited to return and be a part of the whole Finals experience since I've heard so much about it."
Her mounts at this year's US Dressage Finals will include Alanna Sellers' brother-sister pair of homebred Westfalens: six-year-old gelding Bellisambrosso RTH, who claimed the Region 7 Second Level Open Championship; and four-year-old Belialuna RTH at Training Level. Joining them to compete at Third Level will be Stanford LR, a Hanoverian gelding owned by Elaine Lamotta. In addition to cheering on Reinig and Stanford, Lamotta will also get the opportunity to ride down centerline herself at the Finals in the Second Level Adult Amateur Championship: she qualified for the Finals in her very first appearance in Regional Championship competition this September aboard her Dutch Warmblood Caribbean Veluw.
"The breeders and owners of our horses want to promote their breeding programs, and since they're such great horses, we want to get them out there on the national stage and show them off," Reinig explained. "So we went to Regionals with the specific goal in mind to try to qualify for the Finals, and I couldn't be prouder with how we did. Our clients do so much to support me as a rider, so I'm excited to have this opportunity to support them in return."
With all nine Great American Insurance Group/USDF Regional Championships now concluded, more than 670 nominations have been submitted for this year's 6th annual US Dressage Finals, which will offer a whopping $100,000 in prize money and showcase adult amateur and open riders from across the country in 30 championship divisions from Training Level to Grand Prix. Now as the final step in the eligibility process, Reinig wasted no time submitting her final entries, which are due by midnight Eastern Time on Thursday, October 25th (click HERE to learn more about the entry process).
Reinig's husband Kevin, who also currently serves as president of the California Dressage Society, attended the US Dressage Finals two years ago as a spectator and was impressed by what he saw. "It truly is an incredible event, and I think it's a great thing for the sport in this country," he noted. "Last year we went to the US Equestrian National Championships in Lamplight and had hoped to return, but felt like the horses weren't quite ready this summer. So we shifted our focus to the Finals because we feel like it's important to embrace an opportunity like this to compete on the national stage, and we want to support the event. Everything came together: we have the support of our clients, we have competitive horses, and want to continue to build on that momentum. It's something we haven't done before so it's the right time."
Thanks to careful planning, budgeting, and a little help from their friends, the Reinigs aren't letting the daunting distance stop them from embarking on their four-day journey to the Finals. And with $50,000 in travel grants available from USDF (learn more HERE), Finals competitors like the Reinigs can take advantage of some financial assistance. "With 25 horses at home, of course it's hard to up and leave to drive across the country. It definitely takes a village to do this, but we have a great team at home who can keep everything going and makes this possible," said Ericka Reinig. "With the goal of the Finals in mind, everyone prepared and budgeted over the last year to get ready. Plus we're working to keep costs down where we can, and the USDF travel grant will definitely help."
Don't miss your chance to chase your dreams at the US Dressage Finals presented by Adequan®! All entries must be received by midnight Eastern Time on Thursday, October 25th (click HERE to learn more about the entry process). Remember, competitors looking for assistance in making transportation arrangements to Kentucky are encouraged to utilize the US Dressage Finals Transportation Resources webpage. To learn more about the US Dressage Finals presented by Adequan®, download competition information, enter the Finals, and sign up to receive news and updates, visit the official event website at www.usdressagefinals.com.
Copyright ©
United States Dressage Federation
. All rights reserved.
4051 Iron Works Parkway, Lexington, KY 40511
Phone: (859) 971-2277 Fax: (859) 971-7722
You are receiving this email as a current member of USDF subscribed to Competition / Championships / Awards, or USDF Media List recipient. NOTICE: To stop receiving competition related messages from the USDF, click here to unsubscribe or reply REMOVE to this email.
Founded in 1973, the United States Dressage Federation is a nonprofit membership organization dedicated to education, recognition of achievement, and promotion of dressage. For more information about USDF membership or programs, visit www.usdf.org, email usdressage@usdf.org, or call (859) 971-2277.