More Than 620 Nominations Reported for This Year's US Dressage Finals Presented By Adequan®
For Immediate Release
Tuesday, October 24, 2017
Source: Yellow Horse Marketing for the US Dressage Finals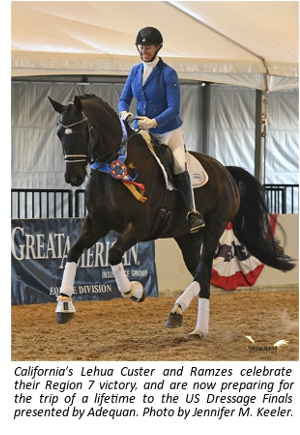 With all nine Great American Insurance Group/United States Dressage Federation (USDF) Regional Championships now concluded, the stage is being set for the fifth annual US Dressage Finals presented by Adequan®, being held November 9-12, 2017 in Lexington, Ky. More than 620 nominations are reported by USDF for this year's event, and with final entries due on October 26th one of the riders most surprised to find herself submitting final paperwork for entry is Lehua Custer of North Hollywood, California.
The entire 2017 show season has been full of surprises for Custer, who hadn't even planned on competing this year with Wendy Sasser's young but talented KWPN gelding F.J. Ramzes. "My original plan was just to focus on training him this year, but Wendy kept encouraging us to get out there and show," Custer noted. "So after a couple of shows we find ourselves qualified for Regionals. Before I know it, Wendy's submitted that entry too, so off we went."
The eight-hour drive to Northern California for September's Great American/USDF Region 7 Championships (held in conjunction with the 50th Anniversary California Dressage Society Championship Show) proved worthwhile as Custer and Ramzes impressed the judges with a dominant victory over 20 competitors in the Region 7 Third Level Open Championship on a score of 76.282%.
"Of course we were thrilled," said Custer. "And then after we got home, I got my letter from USDF notifying us that we were eligible for the Finals. It's an honor, and I posted on Facebook showing my appreciation and how one day it would be great to attend. I've heard year after year about what an incredible event it is, but our team works on a budget so we hadn't given much thought to actually going."
Custer was completely unprepared for the modern power of social media. "I got an insane response from friends on Facebook with at least 200 people commenting that I should set up a GoFundMe account to raise money to go," she explained. "At first I was reluctant because there are so many crazy things happening in the world right now, but people were relentless in messaging, calling and encouraging me, so I talked to Wendy and we decided to try it. We threw out a bit of a crazy number as a goal and raised $6,000 in the first day! Before we knew it people had donated enough money to not only do it but also enough to actually fly him to Kentucky.
"It was completely unexpected and amazing how everyone has stepped up and made this possible when they certainly didn't have to. It has made us feel so special – there's been a lot of happy tears," Custer continued. "We got so much support from my sponsors and our friends and family, and even the Hawaii State Dressage Society donated money because I grew up in Maui and still give clinics there regularly. Everything came together in a way that we never anticipated, and now that we've reached our goal we've pledged to donate any extra money raised (and any prize money possibly won) to natural disaster victims."
As a young professional, Custer is embracing her upcoming Finals experience as a valuable opportunity to prepare herself and her mount for the future, including international competition. After arriving in Kentucky, the pair will participate in a warm-up class in the Dressage in the Bluegrass open competition (running in conjunction with the Finals) before contesting the Third Level Open Championship on Friday, November 10th.
"I've never been to Kentucky or the Finals, and I am telling myself that I should just be proud to be there, but I know how competitive I am," Custer laughed. "I just want to do right by my horse and not put too much pressure on us because we've never done a trip like this, but I also plan to do our best and have fun. I'm also looking forward to meeting a lot of new friends that up until now I've only known through social media, as we've experienced firsthand how Facebook has a way of connecting people from everywhere."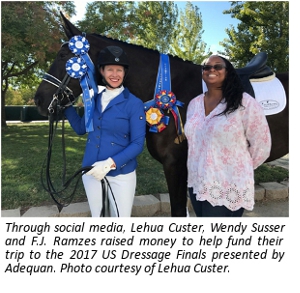 As she and Ramzes step onto the plane bound for Lexington's Blue Grass Airport, they will join hundreds of other competitors making their journeys to Kentucky to chase their dreams on the hallowed ground of the Kentucky Horse Park for a week of dressage competition unlike any other in the country. This year's Finals will offer over $75,000 in prize money and showcase adult amateur and open riders from across the country in 30 championship divisions from Training Level to Grand Prix.
"Thank you to everyone who is making a dream become a reality for me and Lehua," said Ramzes' owner, Wendy Susser. "Six years ago I never would have thought the wide-eyed scruffy yearling that arrived at Hilda Gurney's in the middle of the night would make two little horse-crazy girls' dreams become a reality, and this would never have happened without all of your help and support. From the bottom of my heart thank you, and we hope to make you proud."
Don't miss your chance to chase your dreams at the US Dressage Finals presented by Adequan®! All entries must be received by midnight Eastern Time on Thursday, October 26th (click HERE to learn more about the entry process). Remember, competitors looking for assistance in making transportation arrangements to Kentucky are encouraged to utilize the US Dressage Finals Transportation Resources webpage which includes links to horse transportation vendors, as well as a Horse Transport Share Forum where competitors can connect with others in their areas to organize group transportation.
In addition, the USDF is making up to $50,000 in travel grant funds available to eligible competitors who apply and fall into one of two groups based on the rider's address of record as associated with their USDF membership. Competitors from Group 1 (which includes Washington, Oregon, California, Hawaii, Alaska, Montana, Idaho, Arizona, Nevada and Utah) are eligible to apply for grants of up to $1,200 per horse/rider combination, while competitors from Group 2 (Wyoming, New Mexico, and Colorado) are eligible to apply for grants of up to $900.
Founded in 1973, the United States Dressage Federation is a nonprofit membership organization dedicated to education, recognition of achievement, and promotion of dressage. For more information about USDF membership or programs, visit www.usdf.org, email usdressage@usdf.org, or call (859) 971-2277.