Candescent Finds Her Calling on First Day of 2018 US Dressage Finals Presented By Adequan®
For Immediate Release
Friday, November 9, 2018
Source: Yellow Horse Marketing for the US Dressage Finals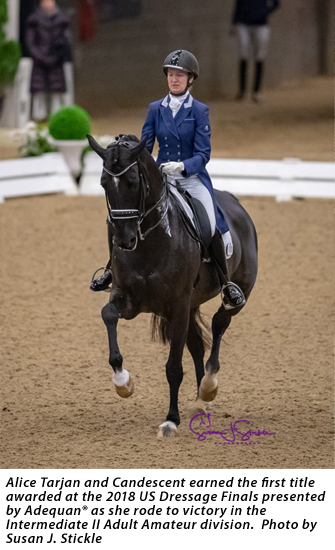 It's hard to miss New Jersey's Alice Tarjan and Candescent when they enter the ring, and the elegant black Hanoverian mare's extravagant movement and mistake-free performance caught the attention of not only spectators but also the judges on the first day of the 2018 US Dressage Finals presented by Adequan®, being held November 8-11 in Lexington, Ky. The pair cruised to a unanimous win under all three judges with 69.069% in the Intermediate II Adult Amateur division, the first of 30 championship titles to be awarded over the next three days across all levels from Training to Grand Prix in this unique national showcase for both Open and Adult Amateur competitors (watch Tarjan's winning ride on the USEF Network HERE).
After earning reserve championship honors with Candescent (Christ x Farina by Falkenstern II) at the Markel/USEF Developing Horse Grand Prix Dressage National Championship at Lamplight in August, Tarjan has continued to work on developing her eight-year-old mare's dressage skills, even though she was bred for a very different sport. "All of my friends jump, event and foxhunt for fun, so I wanted to find a horse for that too, but I wanted it to be a black horse with white socks," she laughed. "So I bought her out of the Hanoverian auction as a four-year-old and I thought I would jump her, but she was quite sour when I got her and not so easy to ride. Then as we got going it became clear she would be best as a dressage horse, so here we are!"
Tarjan, who qualified for this year's Finals in Region 1, was pleased with how her young mount was unfazed by the atmosphere of the Alltech Arena, where the pair will return on Friday to also contest the Grand Prix Adult Amateur Championship. "I'm really pleased with her. Even though it's her first year at this level so it's still a work in progress, she does all the movements really well and now it's just improving the transitions and consistency," Tarjan explained. "It's getting better and better and you can really ride her in the ring, which makes it fun. She fought for me today, and it's been such good experience for her to do this."
Laura Maloney's long journey to her very first US Dressage Finals from Rancho Santa Fe, Cal. (Region 7) with her Dutch Warmblood stallion Winsor Rox (San Remo x Para Lady by Julio Mariner) proved to be worthwhile as the pair claimed Reserve Championship honors in the Intermediate II Adult Amateur division on a score of 61.275%. Maloney claimed the Great American Insurance Group/USDF Region 7 title at this level last month in Burbank, Cal., and the victory gave her the confidence to take the next step onto the national stage.
"Not only did it give me the confidence, but it gave me the wild card to come," said Maloney. "It's been a great year for us, and it all kind of came together for us to be here. I just wanted to experience this – none of us are getting any younger, so you have to do it when you have the chance. My husband supported me and yes, it's expensive and difficult, but I'm thrilled to be here and am so glad I did it."
The pair have been together for four years, and Maloney was delighted with her mount's performance in the Alltech Arena. "I loved my tempi's today – they were big and straight and I think they were a highlight for us," Maloney explained. "I came all this way for one ride, and now I have the chance to enjoy the rest of the weekend. It's a long way to come, but it's worth it."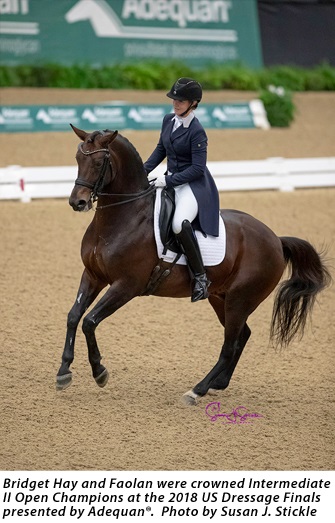 Hay All Smiles in Winning Intermediate II Open Championship
Bridget Hay of Flemington, N.J. (Region 8) and her homebred nine-year-old Oldenburg stallion Faolan (Freestyle x Wyoming by Weltstern) already have an accomplished resume as they've risen through the levels together. But on the first day of the 2018 US Dressage Finals, the pair earned their biggest win to date with a victory in the Intermediate II Open Championship on the strength of a score of 67.794%.
"He felt super in the warmup and I was hoping it would carry over into the ring," Hay explained. "We're both new to this level and we're still gaining experience, but he's unflappable so the atmosphere wasn't really a concern for me. The one tempi's felt super, his pirouettes were really good…overall, he tries his heart out in the ring, and I was thrilled with him. He gives me everything. I don't think I've ever smiled so much in a ride in my life. I just love this horse."
Hometown girl Kathy Priest (Region 2) rode her Danish Warmblood gelding Fredensdals Zig Zag (Blue Hors Zack x Kristiansminders Elektra by Blue Hors Don Schufro) to the Reserve Championship in the Intermediate II Open ranks with 67.059%, and was pleased with not only her mount but her Finals experience. "Overall I was pretty happy with our ride, even though we had mistakes in the one's," Priest noted. "He's still new to this level, but it's coming along and he's such a good boy in the ring – very confident and I can really trust him. I think the Kentucky Horse Park is such an amazing facility for this event. It takes a lot to put on a competition like this, and between the people and the venue, we're lucky to have this and I hope it continues for a long, long time."
Watch archived streaming videos of both the Intermediate II Open and Adult Amateur Championship classes on the USEF Network HERE. Championship competition resumes Friday – follow the action through updates on the USDF Facebook page and the US Dressage Finals website, as well as watch live online streaming on the USEF Network at this link: https://www.usef.org/tune-in. To learn more about the US Dressage Finals presented by Adequan®, download competition information, review day sheets and results, and read daily news releases, visit the official event website at http://www.usdressagefinals.com.
Founded in 1973, the United States Dressage Federation is a nonprofit membership organization dedicated to education, recognition of achievement, and promotion of dressage. For more information about USDF membership or programs, visit www.usdf.org, email usdressage@usdf.org, or call (859) 971-2277.