Fairy Tale Endings on Second Day of 2017 US Dressage Finals Presented By Adequan®
For Immediate Release
Saturday, November 11, 2017
Source: Yellow Horse Marketing for the US Dressage Finals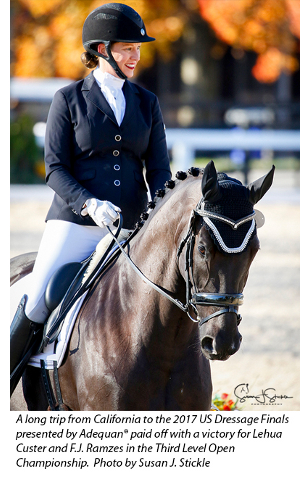 Lehua Custer of North Hollywood, Cal. felt like she's been living in a fairy tale at the US Dressage Finals presented by Adequan®. She and her mount F.J. Ramzes traveled more than 2,000 miles to Lexington from the West Coast on a plane filled with Thoroughbreds returning from last weekend's Breeders' Cup for just one championship class. And they won it.
Custer and Wendy Sasser's seven-year-old Dutch Warmblood gelding (Juventus x J. Rambiance by Rampal, bred in the U.S. by Cornell University) have been on a roll all season, and after earning victory at the Great American/USDF Region 7 Championships in September the pair were ready to relax at home and enjoy their success. But there was more to come.
In a matter of days, a whirlwind fundraising campaign organized at the urging of friends raised the funds needed to fly Ramzes to Kentucky. Before she knew it, Custer found herself a long way from her home in sunny California and shivering on a frigid November morning at the Kentucky Horse Park as she prepared for the ride of her life in the Third Level Open Championship, which she and her mount won decisively with a top score of 72.991%.
"We think anything under 65 degrees is cold in southern California, so the temperature this morning was a bit of a shock," Custer laughed. "My hands were frozen and I have no idea if I was actually doing my half halts, but Ramzes came through for me. He loves to show, and once we were in the ring he knew his job and was just amazing. This whole event is bigger than anything I've ever seen, and it's been an incredible and unforgettable experience."
Reserve Champion Kelsey Broecker of Celina, Texas (Region 9) echoed Custer's sentiment, describing her first Finals experience as "shock and awe," she noted. "This year was my first year going to Regionals and now I'm super excited to be here as well and finish where we did." Broecker rode Molly Huie's seven-year-old Oldenburg gelding Dreamcatcher (Desperados x Taenzerin) to a score of 69.444% for second place. "He was fresh at first but he really came through for me," she explained. "He came to the States as a three-year-old and we had a bit of a rough start, but he's been such a great horse for me to learn on and bring up through the levels. I'm excited to see where we go from here."
In 2016, Elma Garcia also made a long journey to Lexington from her home in California which proved worthwhile as she earned reserve honors in the Prix St. Georges Adult Amateur division. After moving to Mill Spring, N.C. this year and now representing Region 1, Garcia returned to the Finals in victorious fashion by earning the unanimous win with 68.991% in the Intermediate I Adult Amateur Championship aboard her trusted partner and 15-year-old Hanoverian mare Wenesa (Westernhagen x Dancing Girl by Davignon). "Wenesa and I have really kicked it up a notch this season, and our test felt great today," said Garcia. "Now that we're looking to move on to the Grand Prix, I really wanted to finish strong and get the win today for her."
As a youth, Region 9's Terri Sue Wensinger of Dallas, Texas earned a national title for American Horse Shows Association (AHSA) stock seat equitation in Kentucky. Now as an adult, she returned to the Bluegrass State in a very different saddle and earned yet another national honor as she was crowned Reserve Champion in the Intermediate I Adult Amateur division with her 15-year-old Dutch Warmblood gelding Valentino (Riverman-ISF x Jiovette by Flemmingh) on a score of 66.667%. With this being her fourth trip to the Finals, Wensinger felt that confidence was a key to her success. "Today was super fun – I felt like I knew the ring and knew the test, and I was so happy just to be here again," she noted.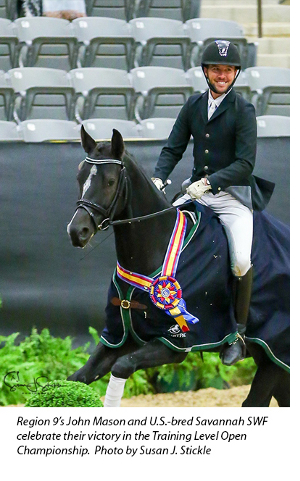 Two exciting young U.S.-bred horses topped the leaderboard in the Training Level Open Championship, with John Mason of Conroe, Texas (Region 9) earning the highest score of 75.076% with the five-year-old Danish Warmblood mare Savannah SWF (Blue Hors Soprano x Nicolette by Diamant) to win the title for owner/breeder Mary Nuttall. "This is only the second time Savannah has left Texas and everything's still a little bit new for her. She's somewhat delicate and a late bloomer, so we've taken our time with her and it's paid off – even though she was a little bit tense today, she still felt great and we had a clean test," Mason explained. "We have an 18-hour drive to Lexington so it's a big commitment to come here, but it's our fourth time coming and in my mind you can't beat this facility for a national event like this. It's unbelievable going into the Alltech Arena for awards and makes for a special moment."
Reserve Champion with 71.515% was Martin Kuhn of New Berlin, Ill. (representing Region 4) who was also pleased with his mount Washburn SW, a five-year-old Swedish Warmblood gelding (Wolkentanz II x Opal by Opus) owned and bred by Kuhn's wife, Kathryn. "We went to Regionals for the heck of it and here we are," he chuckled. "I definitely had a little more juice in the tank than perhaps we needed – one canter depart was a little interesting – but I just smiled and it worked out."
Just two years ago, Maia Barnes of Ringoes, N.J. (Region 8) had never ridden dressage when she purchased her now 11-year-old Dutch Warmblood gelding Benvica (Sandreo x Renieta by Jazz), but the pair started at Training Level and moved up together, and on Friday claimed the Fourth Level Adult Amateur Championship with a score of 69.889%. "It's come together really well, really fast. I never thought I'd be here like this, but it's been a lot of fun and a terrific learning experience for both of us," Barnes said. "My horse has been a little sluggish lately, so we went into the warmup with the hopes that he would be a little more 'up' and ready to go with the cold and the wind. Luckily he was, so he was very good in the ring and we didn't have any mistakes."
Last year's Second Level Adult Amateur champion Bonnie Canter of Hockley, Texas (Region 9) and her 15.1-hand Connemara/Hanoverian cross mare Fifinella GCF (Fred Astaire x South Ridge Bliss by South Ridge Duncan's Honor, bred in the U.S. by Sharon Garner) made the jump up to Fourth Level look easy as they claimed reserve honors with 69.519%. "It's usually hot in Houston so it's kind of wonderful to be a little cold," she laughed. "I dread Fourth Level because it's a long and involved test with so many things that can go wrong, but she was super. I've really enjoyed bringing her along."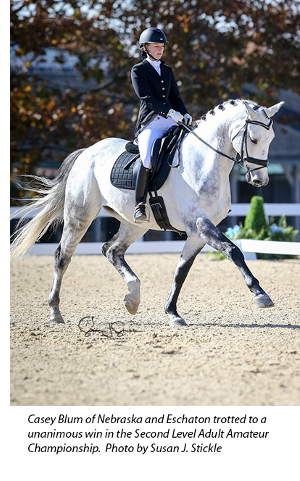 Casey Blum of Lincoln, Neb. (Region 4) has a lot going on in her life: newly engaged, she also recently graduated from college and will soon be moving to a new state to embark on a career as a sales representative for an equine feed company. But the 22-year-old made time to come to Lexington for her very first US Dressage Finals, and the effort paid off when she rode her eight-year-old Dutch Warmblood gelding Eschaton (Sir Sinclair x Melisande by Carpaccio, bred in the U.S. by Linda J. Smith) to a unanimous win under all three judges in the Second Level Adult Amateur Championship with 70.894%. "It's such a beautiful place and you couldn't pick a better time of year with all the fall colors – it's a great backdrop for such a perfect show," she explained. "Even though it was cold, I think it actually worked to our advantage. We took the comments from yesterday's warm-up test to heart, and my horse felt easy to move forward and was right there with me the whole ride. I've had him since he was a yearling and he's been a blast to bring along. This has been the first year that I really feel like he's a 'grown-up', and he's certainly made me the person and the rider I am today."
Region 9's roster of winners continued to expand as veterinarian and equine orthopedic surgeon Ashlee Watts of College Station, Texas rode her nine-year-old Danish Warmblood gelding Hampton (Blue Hors Hotline x Madigan L by Maraton) to reserve honors with 68.618%. The talented pair have previously claimed Training and First Level Adult Amateur titles at the Finals in 2015 and 2016, respectively, and now continue their success at Second Level. "He was a little wild in the warmup but he was perfect in the test," Watts explained. "As he's matured, he's really become a show horse who seems to love his job and knows when it's time to go to work."
A field of 27 horse/rider combinations battled for the win in the Intermediate I Open Championship, but it was Heather Blitz of Wellington, Fla. (Region 3) who ultimately emerged victorious as she rode her promising eight-year-old Danish Warmblood gelding Praestemarkens Quatero (Quaterback x Rohvia Hojris by Rohdiamant) to a top score of 70.877%. "These Finals have the same type of atmosphere as the indoor shows in Europe, and it's right here in the States," said Blitz. "This is the biggest thing my horse has done to date, and I'm super pleased with him. He's a trouper who keeps learning and developing more and more all the time, so I'm very excited about him. I've taken some extra time bringing him along – he has a strong personality and is a passionate horse, and that works in my favor as long as he really understands his job. Today we had a supple, flowing and confident test and I was very proud with how he handled the atmosphere here in the Alltech Arena."
Finishing in reserve was hometown girl Kathy Priest of Versailles, Ky. (Region 2) riding her nine-year-old Danish Warmblood gelding Fredensdals Zig Zag (Blue Hors Zack x Kristiansminders Elektra by Don Schufro) to 69.912%. "It was fun – he felt really good in there, and he likes a big atmosphere," Priest noted. "He was a little behind in his training when I imported him but he had great presence and was a really nice ride, so the biggest thing we've worked on is developing his strength. He's very confident in the ring and is a real trier who always wants to please you."
Kristy Truebenbach Lund (Wellington, Fla.) is off to a successful start at this year's Finals as she and Akvavit (14-year-old Spanish Warmblood gelding [Silvester x Onni by Jazz] owned by Blue Marlin Farm, Inc.) are now two-for-two in championship competition, having won Thursday's Intermediate II Adult Amateur title and returning to the Alltech Arena on Friday morning to also claim top honors in the Grand Prix Adult Amateur division (64.800%). "I changed my plan a little bit today and took him out for a short ride really early this morning, and that seemed to take a little bit of the edge off so we had better focus in the test," she explained. "I think our changes were a highlight, and he was phenomenal today."
Lund's Region 3 teammate Heather Boo works the overnight shift as a neuroradiologist in Loxahatchee, Fla. in order to make time to ride and compete, and her dedication paid off with reserve championship honors earned with her 15-year-old Westfalen gelding Divertimento (Di Versaci x Fatima by Ferragamo) with 63.600%. "He's a lot of horse so I have a lot of work to do to keep things consistent in the test, but this was a great experience for us as we look forward to competing in CDI's this winter season."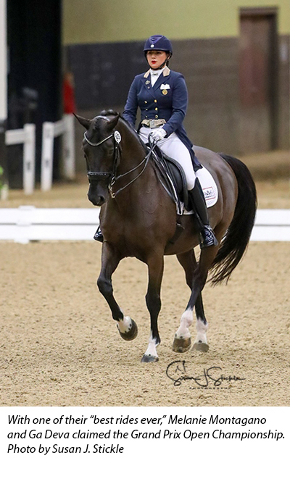 With a joyful piaffe/passage tour that impressed both the judges and the evening crowd, young professional Melanie Montagano of Wellington, Fla. (qualified in Region 1) rode her 17-year-old Dutch Warmblood mare Ga Deva (by Gambol) to take the Grand Prix Open Championship and the Veronica Holt Perpetual Trophy (presented by USDF Region 5 and Friends) with 65.300%. Partners for more than a decade, the pair has progressed through the junior/young rider and under-25 ranks to now find success at the Grand Prix level. "This was one of my best rides ever – she was laser-focused from the moment she walked down here. She has quite the game face!" Montagano laughed. "It's been quite a journey for us to get here and certainly it's never a smooth ride, but I wouldn't change anything about it. The difficult times only make moments like this even more special."
Montagano just edged out Laura Noyes Putnam of Cumberland, Maine (Region 8) aboard Whispering Pine Farm's 14-year-old Danish Warmblood gelding Galveston (Solos Landtinus x Geneva by Rambo, bred by Oak Hill Ranch), who finished just one-tenth of a point behind the leader with 65.200%. "We had a couple little mistakes that I'm kicking myself for but overall I'm really happy with how relaxed he was in there," said Noyes of her mount, which she's brought along herself since getting him as a five-year-old. "We had a really good year and each time we went in the ring it just got better and better. This is our third season at Grand Prix and I have a good feeling that now it's all coming together."
Competition resumes Saturday at 8:00am ET with 12 additional championship divisions – follow the action through updates on the USDF Facebook page and the US Dressage Finals website, as well as watch live online streaming on the popular USEF Network at this link: https://www.usef.org/network/coverage/2017usdressagefinals/. To learn more about the US Dressage Finals presented by Adequan®, download competition information, review day sheets and results, and read daily news releases, visit the official event website at http://www.usdressagefinals.com.
Founded in 1973, the United States Dressage Federation is a nonprofit membership organization dedicated to education, recognition of achievement, and promotion of dressage. For more information about USDF membership or programs, visit www.usdf.org, email usdressage@usdf.org, or call (859) 971-2277.