Riders From Coast to Coast Are Crowned Champions at the 2016 US Dressage Finals Presented By Adequan®
For Immediate Release
Saturday, November 12, 2016
Source: Yellow Horse Marketing for the US Dressage Finals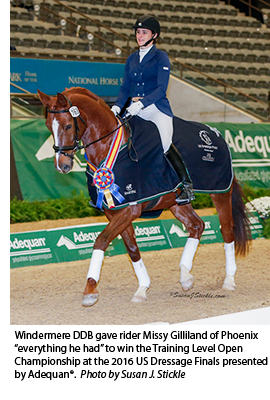 Windermere DDB is living proof that even former bucking broncos can be crowned champions at the US Dressage Finals presented by Adequan®, a unique national head-to-head competition for exhibitors of all levels being held being held November 10-13 in Lexington, Ky.
Coincidentally, just a year ago, Missy Gilliland of Phoenix, Ariz. happened to be horse-shopping for a client in the central Kentucky area during Finals week and decided to purchase a young Hanoverian gelding named Windermere DDB (Waterford x Donnerella by Donnerhall, bred in the U.S. by Lisa Dunn of Creekview Farm). "Of course it wasn't until after we get him home to Phoenix that we found out he has a long history of bucking people off, and had been turned out to pasture for two years because of it," Gilliland explained. "When we first got him you couldn't walk him out of the crossties saddled without him being a bucking bronco."
But Gilliland persevered and was able to channel her mount's energy in the right direction, including claiming a victory in the Great American/USDF Region 7 Open Training Level Championship in September in Burbank, Cal. for owner Diane DeBenedetto. "So then we had a decision to make about going all that way to the Finals. I left it up to the owners and they decided in just a minute that they wanted to do it," said Gilliland. "I guess when things are going so well and you have such a great season with a horse, you can't pass up an opportunity like this because you never know when you might have it come around again. I didn't know how he'd handle the trip and the atmosphere, and the first day here he was pretty bug-eyed, but every day he's figured it out more and more."
The pair's long journey proved worthwhile as they topped the Training Level Open Championship with a winning score of 74.167% over Martin Kuhn of New Berlin, Ill. (Region 2) who won a tie-break for reserve with 73.712% aboard Frazier, a six-year-old Dutch Warmblood gelding (Sir Sinclair x Melvira by Gentleman, bred in Florida by INSPO, Inc.) owned by Jodi Lemkemann. "I was a little worried in the warmup – it was early this morning, and he was freaking out a bit about the sun and the shadows, but I had just enough time to get him settled," said Gilliland. "During my ride he kind of puffed up in the right way and we had a great time. He has definitely stepped up to the plate and I'm so glad we came. I love the venue and everything about the show, and so far it couldn't be a better experience. I'll be back for sure." Kuhn also had his hands full in the warm up arena, "but he really settled down in the test and had no mistakes. He's very talented and eager to please. I was here in 2013 for the first Finals and was amazed with how smoothly the event went, and in our first year back since then I continue to be impressed."
In the Third Level Open division, Michael Bragdell of Colora, Md. (qualified in Region 8) earned top honors with a score of 72.350% aboard Sternlicht Hilltop, a six-year-old Hanoverian stallion (Soliman de Hus x Rhapsody GGF by Rascalino, bred in the U.S. by Rachel Ehrlich) owned by Hilltop Farm Inc. This pair were last year's First Level Open Champions, and also placed third in the USEF young horse championship program in August. "We made some tweaks from our warm-up ride yesterday and had a great test today, and I'm so pleased," said Bragdell. "My main goal for this year was the six-year-old championships and we did that, so we just kept going, one step at a time. With young horses, you listen to what they tell you and if they're ready to take the next step forward, you do it. He's got such a great workmanlike attitude and knows to stay focused on me even though he's a breeding stallion."
Finishing a close second was Nora Batchelder of Williston, Fla. (Region 3) who rode her seven-year-old Hanoverian mare Fifi MLW (Fidertanz x Wolkenstanza MLW by Wolkentanz, bred in Florida by Mary Lou Winn of Home Again Farm) to a score of 72.222% in just their fourth show together. "She's a big powerful girl and she really picked herself up and showed off in the ring today, so I was really proud of that," said Batchelder. "We were ecstatic to get to come here. Having the chance to show a young horse in a national championship atmosphere is an incredible opportunity."
In the lavish Alltech Arena, FEI-level competition kicked off the morning schedule with hard-fought Intermediate I Open Championship. As the last competitor to enter the arena, Mike Suchanek of Cambridge, Minn. (Region 4) didn't let the pressure of the moment, or a bobble down centerline, get in the way of earning a winning score of 71.798% aboard Hero L (nine-year-old Hanoverian gelding [His Highness x Waterlily L by Wolkenstein II] owned and bred in the U.S. by Leatherdale Farms). "By the time I got to C I thought to myself, 'okay, I've got to pick it up and come together on this.' And the rest of the test went great. I'm amazingly proud of my horse and happy for the entire Leatherdale team to get this win for them," said Suchanek, who also credited his special relationship with his mount. "When I started working for the Leatherdales in 2010, Hero was the first horse I ever sat on there. He was just three, and we've built up quite a connection over the years. To now enter into the FEI levels, I'm just so proud and I enjoy all of the challenges that come with that."
Finishing as Reserve Champion was Ashley Wimmer of Winston-Salem, N.C. (Region 1) who earned 71.096% with her own 11-year-old Oldenburg mare Somerhall (Sir Donnerhall x Arantscha B by Archipel) who she has also developed from a young age. "I brought her up through the young and developing horse program, and I think that experience and exposure definitely helped prepare her for this moment," said Wimmer. "She was impressed with the atmosphere in the Alltech but she's matured enough to where she came back and let me ride her anyway. In Europe the horses are used to this type of environment, but in the U.S. there's not many places like this, so it's great experience for us."
A popular phrase notes that "everything's bigger in Texas," and one could say that also applies to Fifinella GCF. The 15-1-hand Connemara/Hanoverian cross mare may have appeared almost diminutive next to her huge Warmblood competitors, but in the Second Level Adult Amateur Championship she proved that size doesn't matter, carrying her owner/rider Bonnie Canter of Houston, Texas (Region 9) to an impressive score of 72.317% and victory in the class of 30. In fact, the talented mare has never let her small stature get in the way of accomplishments: last year, she and Canter competed against the best young horses in the country in the USEF five-year-old championship program at Lamplight. "She has been so great this weekend. I've had her since she was just two, and she has that little bit of 'pony' in her and she loves a trip and loves to feel special," said Canter. "Second Level is tough, there's so many things that can go wrong, but she was forward and flowing and enjoying the cool fall temperatures. The weather has been so beautiful, the grounds are wonderful and footing is perfect – you can't imagine riding someplace any nicer. It's been a great time."
Small animal veterinarian Lucy Tidd of Germantown, Md. (Region 1) returned to the Finals for the second time with her seven-year-old Dutch Warmblood mare Evita to earn Reserve with 71.057%. "She's a little bit of a worrier, but she was much improved over our performance last year at Training Level where she was a little tense," said Tidd. "Today she had a solid test and was really listening. She's starting to really mature and come into her own now. It's so fun to come back here and be around all of the top amateurs from around the country."
Last year's Third Level champions Katherine Lewis of Aiken, S.C. (Region 3) and her 12-year-old Oldenburg gelding Donneur (Donnerschwee out of Akorina by Cordeur) successfully made the move to Fourth Level, earning the unanimous victory under all three judges to win the Adult Amateur division with 68.111%. But Lewis' partnership with her mount almost never happened. "I saw Donneur when he was three and I tried to buy him, but he didn't pass the vetting. I kept searching for a horse for eight more months, but could never get him out of my head. So I asked a friend who's a vet to look at him again in Germany, and he gave me the right answer! But then he came home and was so wild in turnout that he blew suspensories in both front legs, and we totally rehabbed him each time," Lewis explained. "My horse was definitely 'up' today but he was listening and it was such a fun ride. It's like the Olympics for amateurs here. After coming last year, I planned out all of 2016 just to make sure we'd be back."
A fortuitous move off the wait list resulted in Kathryn Bennett of Manassas, Va. (Region 1) and her 12-year-old American Warmblood mare Just Georgie riding to a score of 66.963%, winning a tiebreak for Reserve. "I bought her as an unbroken three-year-old and I backed her myself. She's been a bit of a tough go but she's a lot more willing now and I'm doing things with this horse I never dreamed of," she said. "I remember being at Training Level and seeing someone doing flying changes and thinking I'd never be able to do that. It's been a little bit like the blind leading the blind, but she's turned into the most amazing horse and I'm so lucky."
Twenty-four talented competitors from across the country vied for the Intermediate I Adult Amateur Championship, but it was last year's champion Rachael Hicks of Prospect, Ky. (Region 2) and her 11-year-old Westfalen gelding Fabio Bellini (Fuerst Heinrich x Dakota by Davignon I) who came out on top with 69.123%. But Hicks almost didn't get the chance to defend her title. "I'm not up to date on my rules so I thought since he won last year that we were no longer eligible at this level, and I wasn't ready to move up to Grand Prix. So I didn't pursue qualifying at all," she explained. "All of a sudden I read something USDF sent out right before the last weekend of the qualifying season which said that I could win three times. I literally ran out, loaded him on the trailer, drove all the way to a show in Michigan, and got my qualifying scores in one weekend. And here we are! So now I've learned my lesson – read your rules! It worked out well and I was pleased with our ride. He's such a trier and has gotten more confident in himself over the last year."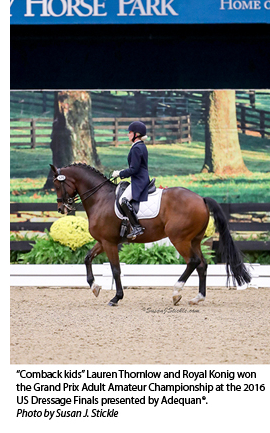 Jessica Nilles took time off from her job as a physical therapist to come to the Finals for the first time, and now will go home to Franklin, Wis. (Region 2) with a Reserve Championship title earned with her 13-year-old Dutch Warmblood gelding Wish (Flemmingh x My Fonsa by Voltaire) on 68.421%. "We received a wild card and we just had to come, and we're both so excited to be here," said Nilles. "I think my horse has the biggest heart of any horse I've ever known, and our test felt like the most expressive and fun that we've had all year. It was a great feeling to have him so 'up' and feeling powerful with me in there."
Perhaps the most dramatic turnaround performance of the Finals so far was Lauren Thornlow and her 13-year-old Oldenburg gelding Royal Konig (Rubin-Royal by Pica Ramira by Pablo). Their long trip from Snohomish, Wash. (Region 6) may seem shorter on the way home after earning the Grand Prix Adult Amateur Championship with 64.000%. "It definitely was the 'comeback kid' ride," said Thornlow. "I had a freestyle ride yesterday and everything that could have gone wrong did. It's the first time I've ever gotten below 60% on this horse in the 10 years I've owned him. I was definitely not in a good place yesterday, so I told myself that I had to pick myself back up and get it together." A short morning schooling session seemed to get Thornlow and her sensitive mount back on the same page, and it paid off in spades when the afternoon's championship title was on the line. "He can be a very difficult ride and sometimes he thinks he can just get by on his good looks," she laughed. "But today it felt like he was with me the whole time in there. I think as far as our connection and communication went, it ended up being our best Grand Prix ever. We've grown together since I was a young rider and everything in our relationship has seemed like it's meant to be. It's been a little bit of a roller coaster but we've found a good balance, and I'm so happy to have him in my life."
Kristy Truebenbach Lund of Wellington, Fla. (Region 3) also rebounded from a tough first day to ride her 13-year-old Spanish Warmblood gelding Akvavit (Sylvester x Onni by Jazz) to the Reserve Championship with 62.700%. "We also had a disaster ride yesterday in the Intermediate II, but I'm so pleased with him today," Truebenbach Lund said of her mount, which she "got out of a bankruptcy sale in Spain and bought off a video. He's a hot horse, but he will do anything for me, and if you ask him to jump he says 'how high?'"
Capping off evening festivities, 15 horse/rider combinations contested the Grand Prix Open Championship where Chase Hickok of Wellington, Fla. (Region 3) rode Hyperion Farm Inc.'s 17-year-old Dutch Warmblood gelding Sagacious HF (Welt Hit II x Judith by Cocktail) to a top score of 70.667% to win the Veronica Holt Perpetual Trophy (presented by USDF Region 5 and Friends). "We wanted to focus on positive, harmonious performances with Sagacious and I felt like we really accomplished that tonight, especially given the atmosphere," said Hickok. "I can't really put into words what an incredible opportunity it's been for me to ride this horse. From day one he's been such a generous teacher, and it's a testament to him that we've accomplished so much together." This was Hickok's first trip to the Finals in Lexington, but it won't be her last. "We graduated last year from the Under-25 division and were looking for a new goal to set for us. This felt like a natural choice because I think it's an awesome program, it's a great way to cap off the season, and we were really excited to come and see it for ourselves," she explained. "Everybody's been so nice, from the volunteers driving the coffee cart in the morning to the staff handing out carrots for the horses, we'll certainly be coming back. This will now have a permanent spot on our calendar."
Anna Whit Watkins of Moody, Texas (Region 9) was equally pleased with her performance with her 20-year-old Dutch Warmblood gelding Oublette (Amulet x Jinnardi by Expo), earning 68.000% for Reserve honors. "He was really on tonight – he likes his job and loves a crowd," said Watkins, who also earned the Reserve title at this level at the inaugural Finals in 2013. "It's great to come back again. Everyone that I've spoken with is just so excited to be here because it's such a unique experience. For competitors who don't usually the chance to get out of their home state or region much, to come here and see the diversity from across the country in such a supportive atmosphere is an incredible experience."
Competition resumes Saturday at 8:00am ET with 12 additional championship divisions – follow the action through updates on the USDF Facebook page and the US Dressage Finals website, as well as watch live online streaming on the popular USEF Network at this link: http://www.usefnetwork.com/featured/2016USDressageFinals/. To learn more about the US Dressage Finals presented by Adequan®, download competition information, review day sheets and results, and read daily news releases, visit the official event website at http://www.usdressagefinals.com.
Founded in 1973, the United States Dressage Federation is a nonprofit membership organization dedicated to education, recognition of achievement, and promotion of dressage. For more information about USDF membership or programs, visit www.usdf.org, email usdressage@usdf.org, or call (859) 971-2277.