Leach and Mason Earn the First Two Championship Titles Presented at 2016 US Dressage Finals Presented By Adequan®
For Immediate Release
Friday, November 11, 2016
Source: Yellow Horse Marketing for the US Dressage Finals
Five months ago, the last thing on Amy Leach's mind was returning to the US Dressage Finals presented by Adequan® to defend her 2015 Intermediate II Adult Amateur Championship title. She just wanted her horse Radcliffe to be healthy again.
"It's been a very difficult year for us. He had some serious health issues and was off from last December until June. We've had some very long days, but he's my family and I fought hard for him," she explained. "When he finally started feeling better, we started back to work just for fun and he felt really good. So we went to a few shows in August, and Regionals was just his fourth time down centerline where we qualified to come here."
Then disaster nearly struck again. "Two days ago, he stepped on me in the stall 15 minutes before he got on the trailer. I knew right away he had broken my foot. My mom had to drive the truck and trailer seven hours to get here and then I went to the emergency room after we arrived," said Leach of South Elgin, Ill. (Region 2). "I didn't even know if I would be able to get my foot in my boot today."
Courageously, Leach did get her dress boot on, and would not be denied another victory as she and her 18-year-old Holsteiner gelding that she's developed from a gangly three-year-old (Rantares x Felicitious by Coriolan, bred in the U.S. by Cheryl Kellerman) earned 67.982% for the unanimous victory under all three judges in the Intermediate II Adult Amateur Championship. "This would not have been possible without so many people helping me, both my friends and members of the show staff, who offered assistance without my even having to ask for anything. It's been so amazing and I'm so appreciative," Leach continued. "Our intention was just to enjoy this experience and have fun after everything we've been through, and he's a total ham – he lights up in the show ring. It's our fourth time here, and I'm so glad to be back. It's our favorite event and I so appreciate all the sponsors and people who make it happen. It's not about competing and coming out on top – for me, it's about enjoying each moment with him. I even took time to look around me today in the arena, and it was a great feeling."
Fellow Region 2 competitor Amy Grahn of Lake Bluff, Ill. and her 12-year-old Dutch Warmblood gelding Zabaco (Contango x Piacenza by Juventus, bred in Florida by Roy and Beth Godwin of Bear Creek Farm) were first down centerline and gave Leach a run for her money with a solid mark of 64.254% to earn the Reserve Championship title. "My horse showed in the Grand Prix here two years ago, and then when he came up for sale I was lucky enough to try him. I'd never ridden at this level, so for the first two months I couldn't even get him to canter, so we've come a long way!" she laughed. "We had a good clean test and he'll work his heart out for you. For our first time here and riding at this level, I'm thrilled. I have to say that I have been so impressed with how nice everyone is here. It's so welcoming, and the facility and organization are the best. I've never been in anything like that – going in that arena is overwhelming."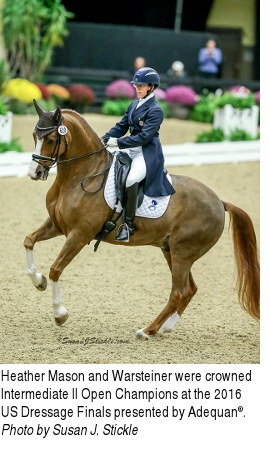 Leach and Grahn were two of the nearly 400 horse/rider combinations representing all nine United States Dressage Federation (USDF) regions and 39 states as well as the District of Columbia in attendance at this year's got US Dressage Finals presented by Adequan®, being held November 10-13 at the Kentucky Horse Park in Lexington. Due to the high number of entries (which have steadily increased every year since the Finals' inception in 2013), the first two championship classes were held on Thursday afternoon, a day traditionally reserved for "warm-up" classes held as part of the Dressage in the Bluegrass open competition.
The day's second awards ceremony was held for the Intermediate II Open division, where Heather Mason of Lebanon, N.J. (Region 8) rode Warsteiner to victory. Mason found the Dutch Warmblood (Riverman ISF x Welona by Roemer) as a two-and-a-half year old in Europe and purchased him as a resale project, but soon decided to keep the now 13-year-old gelding with the big personality for herself to develop through the levels. And Mason's brave decision to make a last-minute tack change and discard her double bridle for the Finals resulted in a winning score of 69.737%. "It's the first time he's shown in a snaffle bridle since Third Level," Mason explained. "I decided to change it up after Regionals because he's always gone well with it, even though I was having second thoughts this morning because he was jumping around! But I had made the decision so I stuck with it, and it paid off. He felt really good and elastic today, we just worked to keep the test steady and not too electric. He is the barn favorite and he'll stay with me forever."
Finishing with Reserve honors was Karen Lipp (Ball Ground, Ga.) of Region 3 with Kathleen Oldford's 11-year-old Hanoverian mare Whitney (White Star x Grace by Grand Cru) on a score of 68.202%. "I showed her in the USEF Young Horse Program as a four-, five, and six-year-old, then the owner rode her for a while, and now we're back together to work on the Grand Prix," said Lipp. "She's a hot, electric horse and I was a little worried about the atmosphere because it's a lot for them to deal with, but she stayed with me in there and I was very happy with her."
Also competing in the Intermediate II Open class was none other than USDF President George Williams, who finished sixth with Sara Anderson's Dutch Warmblood mare Uniqa. "I have to say, from its inception I've wanted to ride in the Finals, but it just hadn't worked out until now," said Williams. "I just started competing this horse this spring, and I find myself here. It's been a lot of fun and it's great to see everything from the competitor perspective, and yes, I had that same magical feeling that so many others have experienced. There is something exceptional about riding in the Alltech, it's a great atmosphere here, and it's even more special knowing all the hard work and vision it took to create this event in the first place."
Wrapping up a busy first day, exhibitors enjoyed a Competitor Welcome Party and Trade Fair Kick-Off on the concourse of the Alltech Arena. Championship competition resumes Friday at 8:00am ET – follow the action through updates on the USDF Facebook page and the US Dressage Finals website, as well as watch live online streaming on the popular USEF Network at this link: http://www.usefnetwork.com/featured/2016USDressageFinals/. To learn more about the US Dressage Finals presented by Adequan®, download competition information, review day sheets and results, and read daily news releases, visit the official event website at http://www.usdressagefinals.com.
Founded in 1973, the United States Dressage Federation is a nonprofit membership organization dedicated to education, recognition of achievement, and promotion of dressage. For more information about USDF membership or programs, visit www.usdf.org, email usdressage@usdf.org, or call (859) 971-2277.