Here's Your Chance - Regional Qualifying Starts This Weekend for the 2016 US Dressage Finals Presented By Adequan®
For Immediate Release
Friday, September 9, 2016
Source: Yellow Horse Marketing for the US Dressage Finals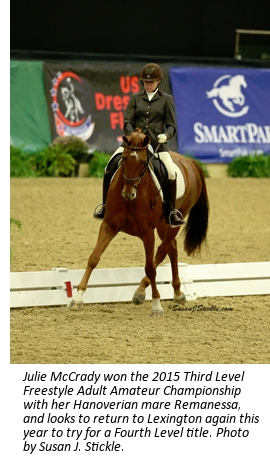 "You bet I'll be back. I've declared and I made my hotel reservations in Lexington months ago!"
Every November since 2013, Julie McCrady and her husband have made the trek to Kentucky from Raymore, Mo. with their home-bred Hanoverian mare Remanessa in tow to compete at the US Dressage Finals presented by Adequan®. They can't wait to do it again, and if things go well at this weekend's Great American Insurance Group/United States Dressage Federation (USDF) Region 4 Championship in Mason City, Iowa, they may get their chance. McCrady will join 600 other competitors who are preparing to ride down centerline over the next two weeks as the first round of Great American Insurance Group/USDF Regional Championships get underway across the country, vying for not only a wealth of awards but also a ticket to Lexington for the Finals, which will be held November 10-13, 2016.
Even though McCrady admits that her mount was so naughty as a youngster that she tried to sell the temperamental redhead, Remanessa has found her purpose in life inside the dressage arena. The pair competed at Training and First Levels during the inaugural Finals in 2013, and then claimed their first national title the following year in the First Level Adult Amateur division. Last November their journey to the Kentucky Horse Park once again proved worthwhile as McCrady and Remanessa stole the show in the Alltech Arena, dancing to victory in the Third Level Freestyle Adult Amateur Championship. "To this day she's not nice on the ground and isn't 'lovey-dovey' at all, but as soon as you put the bridle on her she's all business," McCrady explained. "When you breed them, watch them grow up, and do a lot of the work yourself, I think it makes it all the more special."
Now McCrady is hoping to qualify for the Finals in the Fourth Level Adult Amateur ranks as well as with a Fourth Level Freestyle. "I really love the show – every year it seems to get better and better, and the people who put the event on are great. They make the drive worth it," she said. "Even the hotel staff, residents and everyone around the Horse Park are so friendly and really seem to cater to riders, bending over backwards to help you. I've even encouraged my friends to go there to ride in the open show just so they could be part of the Finals experience."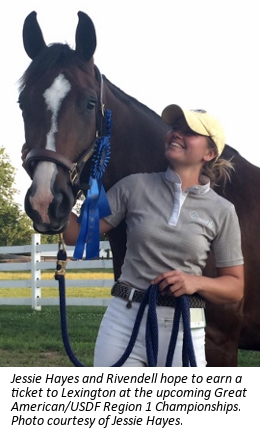 Following this weekend's Region 4 Championship, riders will then compete on September 15-18 in Estes Park, Colo. in Region 5, as well as in Williamston, N.C. for Region 1, where Jessie Hayes of New Jersey is hoping to win a chance to take part in the Finals experience for the first time as a competitor. She will be competing with the six-year-old Hanoverian mare Rivendell at Training and First Level. "When I first saw Rivendell, she was very fat, slightly feral and tried to bulldoze me more than once, but my trainer Lauren Chumley saw something in her that made us decide to buy her," Hayes remembered. "Little did I know that over the next year, she would blossom into something so incredibly fun and talented that she would take me to the American Eventing Championships, our Area Eventing Championships, and now to Dressage Regional Championships and hopefully on to the US Dressage Finals. She will probably always be a hot little firecracker but she has taken every single thing I've thrown at her this past year right in stride and continues to give me her all."
If Hayes were to qualify for the Finals, she will be thrilled to make the 12-hour drive to Lexington. "Why wouldn't I want to go to the Finals? I went with Lauren last year as her groom and I had a blast just being there. The Kentucky Horse Park is such a fun venue and they always put on such a great show – the only thing that could make it better for me is to actually ride in it!" she exclaimed. "I hope to go to the Finals because I want to prove that you don't have to have a million-dollar horse and you don't have to be the most amazing rider in the world. All you have to do is have a goal, a willing horse, the drive to work hard and do what it takes to get it done, and of course have really fabulous people to help you along the way. I have no idea if I'll qualify past Regionals; but if we've come this far in just a year, I can hardly wait to see where Rivendell will take me in two or three because there's still so much in her that I haven't even tapped into yet. Even though making it to the Finals will be the icing on the cake for this year, no matter what happens I'll still be able to walk away with a smile on my face."
Don't miss your chance to compete! The US Dressage Finals presented by Adequan® is a unique national head-to-head competition which offers a wealth of championship titles and over $60,000 in prize money, all while showcasing adult amateur and open riders from across the country in Training Level to Grand Prix. As a reminder for competitors, a horse/rider combination must declare their intention to participate in the US Dressage Finals by completing the Declaration of Intent form by midnight on the day prior to the first day of their Regional Championship competition (including any open class day before the start of championship classes). There is no fee to declare, but horse/rider combinations must declare at the level(s) and eligible division(s) they intend to compete in at the US Dressage Finals. To learn more about the US Dressage Finals presented by Adequan®, download competition information, declare and nominate for the Finals, and sign up to receive news and updates, visit the official event website at www.usdressagefinals.com.
Founded in 1973, the United States Dressage Federation is a nonprofit membership organization dedicated to education, recognition of achievement, and promotion of dressage. For more information about USDF membership or programs, visit www.usdf.org, email usdressage@usdf.org, or call (859) 971-2277.