Inspirational Adult Amateurs and Olympians are the Highlight of Second Championship Day of US Dressage Finals Presented By Adequan®
For Immediate Release
Saturday, November 7, 2015
Source: Yellow Horse Marketing for the US Dressage Finals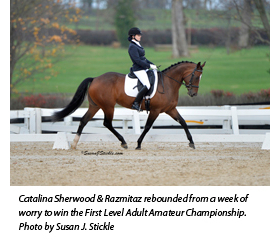 Earlier this week, things weren't looking good for Catalina Sherwood as she pursued her dream of riding at the US Dressage Finals presented by Adequan®, a unique national head-to-head competition for adult amateur and open riders of all levels being held November 5-8, 2015 at the Kentucky Horse Park in Lexington, Ky. After a long van ride from Tucson, Ariz., her eight-year-old RPSI mare Razmitaz wasn't her usual self.
"She wasn't feeling well when she came off the trailer, but the wonderful show vets from Hagyard Equine Medical Institute got right on it and it turned out she was coming down with shipping fever," Sherwood explained. "So we didn't know if we'd even get to ride. Fortunately she responded to treatment and bounced right back, but it was quite a dramatic few days." Despite the worry, Razmitaz rewarded Sherwood's faith by earning a victory for Region 5 in the First Level Adult Amateur Championship with 69.118%. "She's half Quarter Horse and half Dutch Warmblood, so she's an interesting mix and you never know what you're going to get with her. Some days we call her 'Ranch Raz' and other days it's 'Spaz Raz' depending on her mood," laughed Sherwood. "But she felt great this morning, so I just focused on riding her just like I do at home and tried not to get distracted by the incredible surroundings here and all the other amazing riders and horses. To end up winning is so much more special after a long week of worry." Sherwood is just one example of a multitude of inspiring stories at the Finals, especially among the adult amateur ranks. "I'm a working mom with a full-time career in engineering and sales, and my husband is at home with my three-year-old son, and I couldn't be here without their support and that of my mom who came to Lexington with me," she said. "We all work hard and there's a lot of early mornings and late nights to try to ride, so it's really special to be here with so many other amazing amateurs who are doing the same thing." Reserve Champion was Region 9's Ashlee Watts, an equine orthopedic surgeon at Texas A&M in College Station, Texas who rode her Danish Warmblood gelding Hampton (Blue Hors Hotline x Madigan L) to 68.284%. "My friends make fun of me because all I talk about is how amazing my horse is, but he is!" said a thrilled Watts. "He hasn't traveled a lot or done that much showing, so I wasn't sure how he'd handle all of this but he's been perfect and happy here."
A friendly Region 1 rivalry continued on the national stage today in the First Level Open Championship as Michael Bragdell of Colora, Md. rode Hilltop Farm, Inc.'s five-year-old Hanoverian Sternlicht Hilltop (Soliman de Hus x Rhapsody GGF by Rascalino, bred in the U.S. by Rachel Ehrlich) to the win with 74.363%, just ahead of Stacey Hastings of Mooresville, N.C. with hers and Ronald Woodcock's Oldenburg gelding Fürst Aurum (Fürst Romancier x Kapela by Rohdiamant) on 72.598%. "I was really happy with how he was today – we had a great warm-up class yesterday and he felt really good so I went for it today," said Bragdell of the young stallion. "He's a really good boy and no matter what I ask he puts his best foot forward. The weather's been great this year, and it's such a fun experience coming here.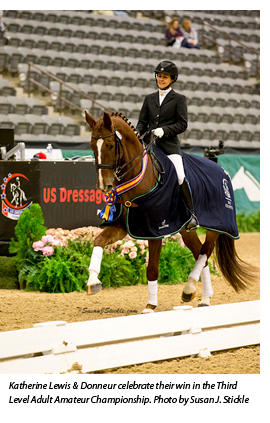 As an athlete, you really feel like it's something special. There's all these people from across the country who come to compete, and it gives you the sense that it's a true national championship and makes for such a special event." Hastings was also pleased with her mount's performance. "He was pretty spicy yesterday so I was a little concerned that there might be more of the same today, but we took our time warming up and it paid off. This trip has been really special because his co-owner has had a long illness this year, and this was the first time since last year's Finals that he was able to attend a show and see his horse go."
In the Third Level Adult Amateur Championship, Katherine Lewis of Region 3 put the talent and energy of her Oldenburg gelding Donneur (Donnerschwee x Akorina by Cordeur) to good use as the only competitor in the division to break the 70% banner, earning a score of 71.239% for the win. "I have such an incredible horse – he always gives 500 percent. But he used to 'self-destruct' in his paddock, so now he goes out in a big field with a retired show hunter where he stays safe and sound and is doing super. He's very brave and tries so hard – he's an overachiever but a joy to ride," said Lewis, who is retired from a career in mechanical engineering and now owns Black Forest Equestrian Center in Aiken, S.C. with her husband. She explained how she's also enjoyed her first Finals experience. "The footing here is incredible everywhere, we've met the most wonderful people, and the volunteers are so dedicated and friendly to everyone. I just love it all, it's very well done." Hometown favorite and middle-school language arts teacher Cariann Wlosinski of Lexington, Ky. (qualified in Region 1) has competed successfully in every edition of the Finals so far with her seven-year-old Oldenburg mare Rhiannon (Rousseau x Odette by Riverman) who she bred herself. Today the pair earned another Reserve Championship on a score of 69.231%. "We spent all summer working on our flying changes, and I really enjoy Third Level. We get so excited to be here each year."
Former western rider Mike Suchanek of Cambridge, Minn. (Region 4) is enjoying success in a very different type of arena as he rode Douglas and Louise Leatherdale's Hanoverian gelding Corenzo (Conteur x Ramira by Rotspon) to a narrow victory in the Fourth Level Open Championship thanks to a top score of 70.741%. "Our test went really well today. He took some deep breaths out there and relaxed into his rhythm – he was a real partner and shared my confidence in the ring," said Suchanek of his mount, who he's brought up from Second Level. "I especially enjoyed our flying changes, I think it was some of his best work so far. He's come a long way in a short amount of time." Suchanek just edged out Bridget Hay of Flemington, N.J. (Region 8) with her own six-year-old Oldenburg stallion Faolan (Freestyle x Wyoming by Weltstern, bred in the U.S. by Barbara Hay) with 70.481%. "It's been a bittersweet journey bringing Faolan along because we also bred his older brother, who I was just about to bring out at Grand Prix when we lost him at just 11 years old. He was the horse of a lifetime," Hay explained. "But Faolan has grown up so much this year, and even though it's hard not to compare him to his brother, it means so much that he's my next superstar."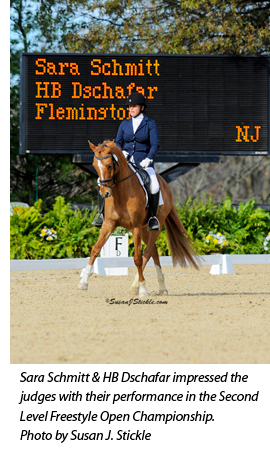 Music rang out across the Kentucky Horse Park grounds today as eight national titles for musical freestyles were awarded. Sara Schmitt and her German Riding Pony gelding HB Dschafar (Daylight x Champion de Luxe) made quite an impression on the judges for this afternoon's Second Level Freestyle Open Championship on their way to earning a dominant score of 77.611% and take the winner's sash home to Flemington, N.J. (Region 8). "He's a hot tamale and he went around the ring looking at everything," said Schmitt. "But once we entered the arena he focused on his job. We got about halfway through the test and I kind of sat back and thought, 'this is just the best'. I had no expectations to win so that just makes it all the more sweet." Finishing in second with 72.500% for her Celtic-themed performance was Jonni Allen of Pleasant Hill, Mo. (Region 4), who rode Mary Adams' FWF Princess Juliana, a seven-year-old Georgian Grande mare (Pieter fan Lutke Peinjum x Flying W Farms Dresden Figurin by Flying W Farms Firedance, bred in the U.S. by Flying W Farms, Inc.). "She was a little tense at first but she came back to me and I was delighted. I just love coming here to the Finals," noted Allen.
After winning Reserve honors in yesterday's Second Level Adult Amateur Championship, Region 8's Amy Gimbel (Oldwick, N.J.) and her six-year-old Dutch Warmblood mare Eye Candy (UB40 x Wednesday by Weltmeyer, bred in the U.S. by Judy Barrett) returned to the ring today to decisively claim top honors by more than a seven-point margin in the Second Level Freestyle Adult Amateur division with 76.333%, ahead of fellow New Jersey resident and Region 8 competitor Jamie Reilley, who finished in second with 69.000%. "Jamie and I have been competing together for about two years, and now we both train with Heather Mason and it was really special to cheer each other on and finish in the top two together," said Gimbel. Reilley improved upon a third-place finish last year to move into the top two with her Charlie Brown-themed freestyle aboard her with her home-bred Oldenburg gelding Feinest Proof (Feiner Stern x Proof Run by Proof). "Everything fell into place for us today," Reilley explained. "He's a special boy because I bred and foaled him, and he came back from a devastating injury as a three-year-old. I even tried to give him away but he was so bad to handle on the ground that they gave him back, and I'm so glad they did! Now he's a gift to ride every day."
Brianna Zwilling (Wentzville, Mo.) of Region 4 rode her seven-year-old Oldenburg gelding Griffindor (Galiani CH x Ronja M by Ravallo, bred in the U.S. by Fernando Cardenas) to win the Third Level Freestyle Open Championship with 72.333%. "I'm very happy with my ride, it was actually quite emotional for me. My horse is very sensitive and he was a little bit spooky going around the ring, but as soon as the music turned on he was right there with me and I feel like he gave me 150 percent. He's the most special horse I've ever sat on," she added. "I love it here at the Finals. It's different from any other show, it feels very elite. But at the same time I don't feel nervous because it's just such an honor to be in that ring. Plus it's so well run every year, it's an absolute pleasure to be here."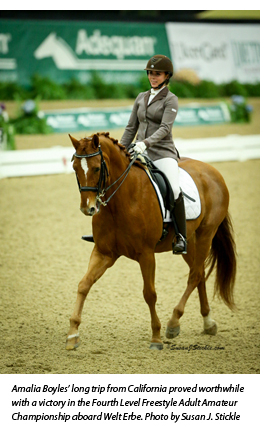 Elizabeth Landers' 50-hour drive from Agoura Hills, Calif. (Region 7) proved worthwhile as she partnered with her stunning black Hanoverian gelding His Highness Crusador (His Highness x Lynn by Lauries Crusador) to 70.389% and Reserve Champion honors. "My horse fell in love with the Alltech Arena, and he came in there today like he owned the place. When our ride started he clicked in his groove and it was just fun," said Landers. "We've come so far this year, and it's a mind-blowing experience to be here."
Region 7's Amalia Boyles also braved the cross country trip to the Finals from her home in Carlsbad, Calif. and was rewarded with a victory in the Fourth Level Freestyle Adult Amateur Championship aboard Donna Richardson's Hanoverian gelding Welt Erbe (Weltmeyer x Solveig by Shogun) with 69.944%. "Yesterday he was really hot, so today I was hoping for a more relaxed horse and in the warm-up I think we did a better job to prepare," said Boyles, who is a recent college graduate. "He's more experienced than I am but he's also a little quirky – he has about a hundred different personalities all in one. You never know what you're going to get, but he's definitely made me a better rider. I've never competed in a facility quite like this and it certainly was a very tough competition, but I wanted to experience this and my parents and friends helped me get here. It was all definitely worth it after today." Nelson Long of Signal Mountain, Tenn. (Region 3) returned to the Finals for a second straight year and this time earned the division's Reserve Championship for a Les Miserables-themed freestyle with his Dutch Warmblood gelding Be Cool Metall (Daddy Cool x Tannory by Metall) with 68.611%. "My horse is very green so when we first went in the arena he was pretty full of himself, but he settled down and went to work," he explained. "We were here in 2014 for First and Second Level, and what a difference a year makes. He works very hard and it really was a delight."
In the Intermediate I Freestyle Adult Amateur Championship, Colene Stevens of Canton, Ohio (Region 2) rode her 11-year-old Hanoverian gelding Bonifaz S (Brentano II x Windgame by Weltmeyer) to the win with 66.125%. "I love riding to the music in the Alltech Arena, it really enhances the whole experience," she explained. "My gelding loves to show off in front of people, so it was fun. It was quite a process with a lot of laughs to find the right music for him – we tried song after song and even had votes at the barn to help choose the right ones, but ultimately it was my horse who picked the music." Earning her second Reserve Championship in as many days was Alexandra Krossen of Basking Ridge, N.J. (Region 8) who had another good performance with Heather Mason's Hanoverian cross mare Damani (Duvall x Gqdiva by Gesandt, bred in the U.S. by Virginia Godfrey) for 65.958%.
It was a hard-fought and heartfelt win in the competitive Intermediate I Freestyle Open Championship for Heather McCarthy of Prairie Grove, Ill. (Region 2) as she rode John McGuire and Marilyn Johnson's Oldenburg mare Saphira (Florencio x Roxina by Chairman) to the win with 73.125%. "John McGuire recently passed away, so it was a hard show for me but this was his dream for Saphira to succeed like this," McCarthy explained. "I really went for it today and I think it was one of the most fun rides I've ever had. We look forward to coming to the Finals all year – when we're at Regionals we keep our fingers crossed hoping we're going to qualify because it's such a fun show to come to." Earning Reserve Champion honors with a score of 72.917% was also sincerely appreciated by Heather Mendiburu of Wantage, N.J. (Region 8) who wasn't sure she would be even able to come to Kentucky with her Hanoverian mare What Happen (Waldstar x Gina de Ro by Gloster, owned by High Point Solutions). "Things were a little up in the air for us coming into this because my mare had an injury right after Devon, so we only had about three decent rides before we came here so didn't know what to expect," she said. "But once we got going everything was clicking and I knew that we were in sync and that it was going to be a good ride. It's such a privilege just to be here."
Alice Tarjan of Frenchtown, N.J. (Region 8) has proven to be unbeatable in the Grand Prix Adult Amateur ranks, and today added the division's Freestyle Championship to her list of accomplishments. With her eight-year-old Oldenburg mare Elfenfeuer (Florencio x Elfensonne by Sion) she earned a score of 71.083% for her Alice in Wonderland freestyle to accept the Calaveras County Perpetual Trophy presented by artist Olva Stewart Pharo. "I'm just thrilled to be here again and I had so much fun," said Tarjan. "It's so exciting to meet people from all over the country, share a passion with horses and talk to people about their stories and how they got here. I really enjoy it." Candace Platz of Auburn, Maine (Region 8) was thrilled to earn 66.750% and claim the Reserve ribbon with her 11-year-old American Warmblood gelding Fynn*/*/*/*/*/, who was a PMU rescue horse. "I'm really thrilled – my goal with this freestyle was to touch people's hearts. It's really important to me that the message of how I feel about my horse and our relationship as best friends and partners comes through, and tonight it did."
Closing out festive evening performances, Olympian and USDF Hall of Fame member Michael Poulin of DeLeon Springs, Fla. (qualified in Region 8) made the crowd come alive with Pineland Farms, Inc.'s mighty Dutch Warmblood gelding Thor M (Mirakel x Debora by Westvoorn). After finishing second in Friday's Grand Prix Open Championship,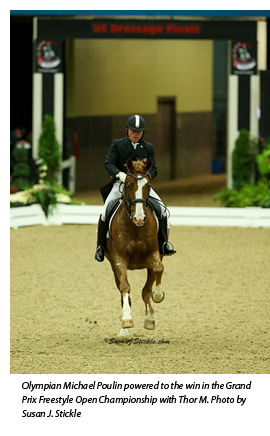 Poulin was not to be denied top honors on this special night and the pair earned a unanimous victory from FEI judges Axel Steiner, Lilo Fore and Natalie Lamping with a score of 72.583% to claim the Grand Prix Freestyle Open Championship for their performance featuring music from the Brave movie soundtrack. No one in the audience as able to tell that Poulin had barely rehearsed the routine and even improvised movements as he went along, including 37 consecutive one-tempi's. "I really didn't practice it at all – I ride a freestyle by the numbers in that I do it by ear and by timing, counting the number of beats. That's just the way I do it and it works for me. And tonight I also threw new things in the test and just said 'let's give it a whirl'," said Poulin, who emphasized he had every faith in his mount. "He's quite a clever horse and a tremendous giver. You have to treat him with respect and kindness because he's hot and sensitive, but that's what makes him great." Emily Miles of Overland Park, Kansas (Region 4) and her long-time partner Weltdorff (Hanoverian gelding, Weltmeyer x Luna by Ludendorff) finished a solid second with 71.208% earned for their precise routine also highlighted by single-handed one-tempi's on the final centerline that even prompted a grin from judge Lilo Fore. "I don't love the music but it works so well for him – he may not be the biggest mover but it highlights his precision," she noted. "It's not the first time he's come through for me – I've had him for ten years since he was a three-year-old and here we are. That's pretty cool."
The US Dressage Finals presented by Adequan® will conclude on Sunday as the last group of 10 champions for 2015 are crowned. Follow the action through updates on the USDF Facebook page and the US Dressage Finals website, as well as watch live online streaming on the popular USEF Network (http://www.usefnetwork.com/featured/2015usdressagefinals). To learn more about the US Dressage Finals presented by Adequan®, download competition information, review day sheets and results, and read daily news releases, visit the official event website at http://www.usdressagefinals.com.
Founded in 1973, the United States Dressage Federation is a nonprofit membership organization dedicated to education, recognition of achievement, and promotion of dressage. For more information about USDF membership or programs, visit www.usdf.org, email usdressage@usdf.org, or call (859) 971-2277.