Riders and Horses Dance to Victory on Freestyle Day at US Dressage Finals Presented By Adequan®
For Immediate Release
Saturday, November 8, 2014
Source: Yellow Horse Marketing for the US Dressage Finals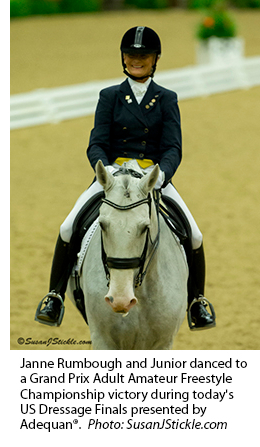 Music filled the concourse of the Alltech Arena to the delight of an enthusiastic crowd of spectators and VIP's on Saturday as some of the country's best dressage horses and riders did their best to captivate the judges and earn national championship honors for their carefully-choreographed musical freestyles at the US Dressage Finals presented by Adequan®, being held November 6 - 9, 2014 at the Kentucky Horse Park in Lexington, KY.
One of the highlights of the day was the presentation of the new Calaveras County Perpetual Trophy (by artist Olva Stewart Pharo) to the very first US Dressage Finals Grand Prix Freestyle Adult Amateur Champion, Janne Rumbough of Palm Beach, Fla. (Region 3). The crowd went wild and clapped to the beat of Rumbough's Mary Poppins-themed music as her gray PRE gelding Junior (by Gaucho III x La Nina by Brioso VI) seemed to relish the electric atmosphere of Alltech Arena, earning a winning score of 70.708% over fellow Region 3 competitor Aileen Daly (Aiken, S.C.) who rode her Hanoverian gelding Windsong (Weltmeyer x Lara by Laurie's Crusader) to second place with 65.250%. During the awards ceremony and subsequent press conference, Rumbough was emotional about her win. "I'm just speechless. I am so honored to be the first one to have my name on this beautiful trophy, and to finally win a championship title like this," she explained. Rumbough also finished as Reserve Champion in the Grand Prix Adult Amateur division yesterday, as well as at the inaugural Finals in 2013. "It gives me chills to talk about it, I'm so grateful and honored. This has been a goal of mine for years, and now I can check it off the bucket list. But I still want to come back next year and win the Grand Prix test too!"
Starting off the day were competitors showing off their Second Level Freestyles, and in the Adult Amateur division, crowd favorite and hometown girl Cariann Wlosinski (Lexington, Ky., Region 2) earned the unanimous win with 70.567%. A full-time middle school teacher who "teaches by day and rides by night," Wlosinski attended the inaugural Finals last November and was "determined to try to get back here this year." She danced to a Beatles medley aboard her own Oldenburg mare Rhiannon (by Rousseau), a horse she bred and raised herself. "I had her dam, so I was there when she was born. We've been together six years now," said Wlosinski. "She loves it here in the Alltech Arena because she loves to come in here and have the ring to herself. We had a great ride, and it was awesome to have all my friends and family here to cheer me on." Finishing second was Camilla Van Liew (Charleston, S.C., qualified in Region 1) riding her Dutch Warmblood Dartesch (Special D x Sedesch by Jazz) with 68.322%. As a small animal veterinarian, Van Liew explained she often has to make time to ride during pre-dawn hours before going to work, but her efforts paid off today. "I was a little worried about riding in the Alltech today since it's only the fourth time we've ever ridden a freestyle and my horse is young," she said of her six-year-old gelding, whose sire is also competing at the Finals. "But he really kept it together, I was awfully proud of him. He's such a good guy, and it's been a dream to be here."
Perhaps no competitor had more fun with her performance than the Second Level Open Freestyle Champion Morgan Barrows (Monroe, Wash., Region 6) riding Janice Davis' Oldenburg gelding San Corazon. Their Billy Idol-themed freestyle was rewarded with a top score of 74.678%. "I had a blast! I want to go out there again," said Barrows, who has been partnered with her mount for less than a year. "I originally saw him at a friend's farm in Sweden when he was three. Later when he came up for sale, I knew we had to get him. It's been fun to bring him up, and the longer I ride him the more fun he gets. He's a great horse and I'm excited to see where he's going to go." Delighted to also be accepting national honors with a score 72.022% was Reserve Champion Claudia Novick riding her Friesian gelding Marco von Laar (by Onne 376 x Wydana von Laar by Sjaard 320). This pair returned to Kentucky after attending the 2013 Finals, where they went home to Gastonia, N.C. (Region 1) as Reserve Champions in the First Level Adult Amateur Freestyle. "The cold weather actually helps us!," Novick laughed. "My horse is such a character. He was formerly a driving horse, so he had to change his body and mindset from pulling to pushing. I think this year he's really 'gotten it.'"
Retired small animal veterinarian Jeanne Van Nuys-Hitt of Harrisburg, Pa. (Region 8) rode her Oldenburg gelding Sirtaki to victory in the Intermediate I Adult Amateur Championship, where their Enya-themed performance earned a top score of 68.792%. "I am thrilled. You put a lot of time, money, and blood, sweat and tears into getting here, so any time you end up on top of a great field of riders, it's the ultimate thrill," said Van Nuys-Hitt. Finishing just a point behind the leader to earn their second Reserve Championship of the weekend on a score of 67.792% was Lauren Thornlow of Monroe, Wash. (Region 6) and her Oldenburg gelding Royal Konig (by Rubin Royale), a horse which Thornlow has had since he was just three years old and has now become her first FEI-level mount. "It's been a great journey to bring him along," Thornlow noted. "He's a great guy with a terrific personality, and his favorite thing to do is to go out there and show off."
Region 2 riders claimed top placings in the afternoon's Third Level Open Freestyle Championship. Earning the unanimous win under all three judges was Angela Jackson of Henderson, Ky. riding Theresa Schnell's impressive Oldenburg stallion Hemmingway (Hofrat x Alsonara by Archipel) with 73.878%. "It's so beautiful in there, people are cheering, and I just had a fantastic time," said Jackson of her Pirates of the Caribbean-themed freestyle performance. "My horse was energetic and right with me every step of the way. He's had a fantastic year already, and to top it off by being champion here is just great." Finishing in the reserve spot was Laurie Moore of Ada, Mich. riding Christine Miller's Holsteiner gelding Lyric PT, who were rewarded with 71.367% for their Beatles-themed musical performance. "I had a super warm-up getting him nice and forward, and we went in the arena and he was just free and happy," said Moore. "The music is fun and up-tempo, and it suits him perfectly."
Former jumper rider Anna Jaffe of Concord, Mass. (Region 8) has made a successful switch to the dressage ring as she rode Jane Karol's Westfalen gelding Moonshine (by Lamerto H) to victory in the Fourth Level Adult Amateur Freestyle Championship on a score of 68.822%. "This is the first horse I've ever done dressage on, and it's been an extraordinary opportunity to learn from him," explained Jaffe. "We don't have any indoor shows like this in New England, and my horse is naturally very spooky. But he loved the Alltech Arena! This was the best show of his life, and I'm so happy to be here." Region 6's Jacquelyn McMaster of Sherwood, Ore. drew confidence from her Dutch Warmblood gelding Paviano to overcome her show nerves and ride for a score of 68.156%. "I was quite nervous, but about two minutes before show time he felt so good," she said. "So I just took a deep breath and let it all sink in, and it was just amazing being in there in that atmosphere. It ended up being a lot of fun."
In the outdoor championship rings, competition was fierce across all levels. Topping a huge field of 35 competitors in the First Level Adult Amateur division was Julie McCrady of Raymore, Mo. (Region 4) riding her five-year-old Remanessa. Even though the pair had to wait all day to compete as they were scheduled last to go in the class, their patience paid off as they earned the winning score of 71.290%. Making the win even more meaningful was the fact that McCrady bred the Hanoverian mare (Rousseau x Leonessa by Louis Heslegard) with her husband, and they were making a return trip to the Finals after competing at Training and First Level last year. "I think the people are so friendly here, everyone bends over backwards to help you. I encouraged one of my friends to come here to ride in the open show just so she could be part of the experience," McCrady said. "It's just been wonderful, and so special to have bred Remanessa ourselves. She was a handful on the ground until we started her under saddle where she seemed to find her purpose in life. Now she's a great mare." Another competitor who was delighted to find success at the Finals was Viki Meyers of Russellville, Ark. (Region 9) who rode her Hanoverian gelding Gold Flash (by Gold Luck) to the Reserve Championship with 70.753%. "I had the time of my life today. Each of my rides has gotten a little bit better, and I've learned a lot since I've been here," said Meyers. "We don't have any licensed dressage shows in Arkansas, so I have to travel extensively just to train and compete. This was my first year to even go to Regionals, and now I find myself at the Finals and I'm just amazed. My friends drove all the way to Kentucky just to watch me compete in one test! I feel really special to be here, and it may be a once-in-a-lifetime experience but I do hope to be back here next year."
In the First Level Open division, Gwyneth McPherson will now make the 20-hour drive home to New Gloucester, Maine (Region 8) with a Championship title in hand after guiding Pineland Farms Inc.'s five-year-old Dutch Warmblood gelding Eskandar (Zhivago x Ostara by Caritas) to victory with 75.538%. McPherson was impressed with how her mount (which she found in 2012 as a young stallion in Belgium) handled the conditions. "I was delighted with my ride," she said. "He can be spooky but even with the wind and cold, he stuck with me for the whole test." Yesterday's Training Level Champions Patricia Becker from Wadsworth, Ill. (qualified in Region 2) and Joan Pecora's five-year-old Dutch Warmblood gelding Edward (by United) moved up to First Level today and claimed Reserve honors (73.333%). "He has such a super temperament, and he couldn't have been better," she noted.
Rachael Hicks of Prospect, Ky. (Region 2) has already had a successful Finals with both a Championship and Reserve title to her credit for Fourth Level, but today she added yet another honor to her resume by earning a decisive victory in the Third Level Adult Amateur division with 70.342% aboard her lovely Rheinlander stallion Don Cartier (Don Schufro x Carmina by Cartier). "It was a little chilly out there today," laughed Hicks. "He was a bit tired today so I decided not to push for a '10', but it was steady and consistent test and he gave me a great feeling throughout." Back home in Santa Monica, Cal. (Region 7), Christine Ekstrand is an orthopedic surgeon and the mother of seven children. But today she celebrated earning Reserve Championship honors with her Hanoverian gelding Braxxton (Baroncelli x Rosana by Rotspon) on a score of 67.479% "He was tired from the trip at first, but he perked right up and I was really pleased with how he did today," Ekstrand said of her mount.
Melissa Beardsley's Hanoverian gelding Louis Vuitton lived up to his name in giving Shauntel Bryant of Seattle, Wash. a fashionable ride in the Stonelea Arena which was good enough to ultimately win the Fourth Level Open Championship on a score of 69.417%. "He's an 'on' or 'off' kind of horse, but he was really 'on' today and gave it his all," noted Bryant. "It was the kind of ride where you just say to yourself, 'this is lovely'. He definitely woke up on the right side of the stall today, and the brisk weather actually works to his advantage. I almost didn't bring him to the Finals because he's not a super consistent horse, but now I'm glad I did because he pulled it off!" Debbie Hill of Gurley, Ala. (qualified in Region 2) earned her second Reserve Championship title in as many days with Boccaccio IOF (Hanoverian gelding [Bugatti Hilltop x Roxette by Rubinstein], owned by Marchella Richardson) with 69.167%. "Bo was ready to go again today," Hill said. "He always aims to please and works hard. He put in a great effort out there and of course I was thrilled. There's so many fantastic horses and riders here which makes for great company and competition, so I'm just glad to be a part of it and I've really enjoyed myself."
Kentucky women seemed to claim home field advantage as they swept the top spots in the evening's Intermediate I Open Freestyle Championship. Angela Jackson earned her second national title of the day, this time aboard Kerrin Dunn's lovely Dutch Warmblood Allure S. Even though the mare wasn't feeling quite like her normal self on Thursday, when she entered the arena as the first combination down centerline for the class, "she rebounded and put her game face on today," said Jackson. "The feeling you get from her in the arena is just amazing. The crowd was really into it, and she loved it. I just love a good mare." Linda Strine from nearby Versailles, Ky. also had high praise for her mount, Julie Roche's Friesian mare Inke FCF (Erik x Nynke Marije by Nikolaas 310) who improved upon a fourth-place finish in this division at last year's Finals to earn tonight's Reserve Championship with 67.292%. "The best horses I've had have been mares," said Strine. "She was fired up - she's very expressive but also so reliable. I can always count on her, and she knew she was there to show off."
It may have taken North Forks Cardi four days to travel across the country from Battle Ground, Wash. (Region 6) to attend the Finals with owner/rider Jessica Wisdom, but it only took a matter of minutes for the charismatic Welsh Cob stallion to become the fan favorite on his way to winning the finale class of the night, the Grand Prix Open Freestyle Championship. "Freestyle is where he really shines - he hears that music and he becomes a big horse. Nobody told him that he's only 14.3 hands!," said Wisdom. "All he has to do is go out there and be the rock star that he knows he is. And you saw what happens! He has an ego the size of Texas. He seemingly becomes three hands taller and says, 'watch this." The Reserve title went to Region 4's Emily Miles of La Cygne, Kan. (69.833%), who today found success aboard her Hanoverian gelding Weltdorff, a horse she's had since he was a youngster and has risen up to the Grand Prix level together. "It's always seemed that he's played the role of bridesmaid to my other horse WakeUp, so I'm happy for him to earn this," said Miles. "I have to admit I don't particularly like my music, but I trusted my freestyle designer who insisted that it works for my horse. Obviously she was right! The best moment was coming down centerline as we did 25 one-tempi's one-handed and the crowd started clapping. And turns out my husband was watching our ride from home on the USEF Network! So it's been a really fun night."
The US Dressage Finals will conclude on Sunday as the last group of 10 champions for 2014 are crowned. Follow the action through updates on the USDF Facebook page and the US Dressage Finals website, as well as watch live online streaming of Sunday's classes from the Alltech Arena on the popular USEF Network (www.usefnetwork.com). To learn more about the US Dressage Finals presented by Adequan®, download competition information, review day sheets and results, and read daily news releases, visit the official event website at www.usdressagefinals.com.
Founded in 1973, the United States Dressage Federation is a nonprofit membership organization dedicated to education, recognition of achievement, and promotion of dressage. For more information about USDF membership or programs, visit www.usdf.org, email usdressage@usdf.org, or call (859) 971-2277.