Competitors Gather at Kentucky Horse Park for This Week's US Dressage Finals Presented By Adequan®
For Immediate Release
Tuesday, November 4, 2014
Source: Yellow Horse Marketing for the US Dressage Finals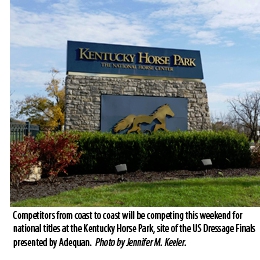 Sunny skies, rolling green fields, and the iconic four-board fences of the Kentucky Horse Park welcome the droves of horse vans arriving in Lexington, Ky. for this week's US Dressage Finals presented by Adequan®, a unique national head-to-head competition showcasing riders and horses competing for top honors at all dressage levels from Training to Grand Prix as well as musical freestyles.
This year's competitor roster includes over 400 entries for the US Dressage Finals and USDF Dressage in the Bluegrass open show, reflecting an increase of more than 100 entries from last year's inaugural event. Over four exciting days of competition to be held November 6 - 9, 2014, riders representing all nine United States Dressage Federation (USDF) regions and from 38 states across the country (and the District of Columbia) will gather in the Horse Capital of the World, including from the West Coast states of Washington, Oregon, and California, as well as up and down the eastern seaboard from Maine to south Florida.
For this second annual Finals, championship offerings have been expanded to 30 divisions, offering exhibitors from a variety of backgrounds and experience levels (including adult amateurs, professionals, and High Performance riders) a chance to earn national honors, fantastic prizes, and more than $50,000 in prize money. From the awe-inspiring atmosphere of the Alltech Arena to the picturesque outdoor Stonelea and Claiborne arenas with state-of-the-art synthetic footing, dressage competition will be held across six rings, including four rings of non-stop Championship action.
In the pre-dawn hours of last Saturday, Barbi Breen-Gurley of Los Osos, Cal. loaded her Dutch Warmblood Vindicator onto a commercial van full of fellow California horses for their 55-hour non-stop journey across the country to the Bluegrass Region. Looking fresh and fit upon his arrival on Monday, the gelding seemed ready to take on 20 other competitors in the Open Grand Prix Championship class later this week. Having attended the inaugural edition of the Finals last November (where the pair finished sixth in the Intermediaire I division), Breen-Gurley was well aware of the long and expensive trip they faced in returning to Kentucky. But there was never a doubt that, given the opportunity, she would be back.
"I was so proud of him last year, and even though this is his first year at Grand Prix, I wanted to come back, do our best, and be able to say that we did this," Breen-Gurley explained. "My amazing husband Geof supports me all the way, my kids are so proud, and I truly believe that you have to seize an opportunity like this when it presents itself. I knew what we were in for coming all this way, but I am still so grateful to be here. So often I see people give up on their dreams for many different reasons, but I refuse to, even if it means traveling across the country to pursue them.
"I also think it's great to see even more people from the western states this year," she concluded. "We had a wonderful time last year, and I'm happy to see others take advantage of this. It's incredible to be competing with such great people from all over the country who are so committed to the sport. It makes for such a great energy here, and it's particularly inspiring and exciting for me."
The US Dressage Finals get started on Thursday, November 6 with USDF Dressage in the Bluegrass open classes, followed by a Competitor Welcome Party at the Alltech Arena. Championship classes kick off on Friday, with special evening performances and activities both Friday and Saturday to entertain competitors and spectators alike. For a truly unforgettable championship experience, limited VIP seating in the Alltech Arena is still available for purchase (to learn more, click here). For those dressage fans unable to attend the Finals in person, the popular USEF Network will feature live online streaming of select classes from the Alltech Arena on their website, http://www.usefnetwork.com.
To learn more about the US Dressage Finals presented by Adequan®, download competition information, review entry lists, purchase tickets to special events, and sign up to receive news and updates, visit the official event website at http://www.usdressagefinals.com.
Founded in 1973, the United States Dressage Federation is a nonprofit membership organization dedicated to education, recognition of achievement, and promotion of dressage. For more information about USDF membership or programs, visit www.usdf.org, email usdressage@usdf.org, or call (859) 971-2277.