Regional Qualifying Off To a Strong Start for the 2014 US Dressage Finals Presented By Adequan®
For Immediate Release
Monday, September 15, 2014
Source: Yellow Horse Marketing for the US Dressage Finals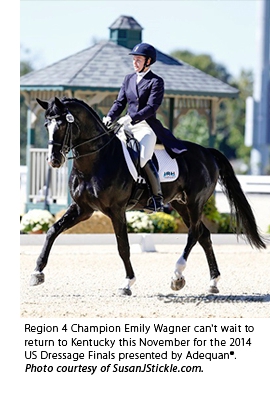 After generating international headlines and a nationwide buzz following the overwhelming success of its inaugural event in 2013, the US Dressage Finals presented by Adequan® is returning to the picturesque Kentucky Horse Park in Lexington, November 6 - 9, 2014 and already looks to be building upon last year's level of excitement and anticipation. This unique national head-to-head competition will once again offer a plethora of championship titles and over $50,000 in prize money, all while showcasing adult amateur and open riders from across the country competing from Training Level to Grand Prix.
Regional qualifying for the US Dressage Finals got underway on September 5 - 7 in Mason City, Iowa at the Great American Insurance Group/United States Dressage Federation (USDF) Region 4 Dressage Championships, where the first group of competitors had an opportunity to punch their tickets for Lexington. Among those earning Regional Championship titles and corresponding invitations to the Finals was Emily Wagner of La Cygne, Kan. with horses WakeUp, Weltdorff, and Galbatorix. Wagner attended the inaugural US Dressage Finals last fall, and now she can't wait to get back to Kentucky.
"I think it's so great to have this type of national head-to-head championship for both open riders and adult amateurs, bringing people from all areas of the country together to compete with each other. It really makes it an honor to be invited," Wagner explained. "I'll never forget that feeling as I walked into the Alltech Arena for the first time: it's the stuff of dreams, the type of facility that you see in videos from Europe, with an atmosphere that is amazing. It gives you goosebumps to look at it and realize you're going to ride there. But not only that, it was so much fun to see so many people from all over the U.S. and to share in the thrill of being a part of an event like this. I would encourage anyone who has the chance to come and share in that experience this year."
This excitement seems to be contagious. A marked increase in Great American Insurance Group/USDF Regional Championship entry numbers has been reported so far for several USDF regions, indicating this could be a banner year for the Regional Championship program as more and more exhibitors are pursuing a chance to ride at the 2014 Finals over the hallowed ground of the Kentucky Horse Park, home of the 2010 Alltech FEI World Equestrian Games. "Last year I spoke about my hope that the Finals would have a 'trickle-down' effect, nurturing enthusiasm for the sport and growing participation in the Regional Championships," said George Williams, USDF President. "Already we're seeing those results after only one year, so I couldn't be happier with this trend and I believe the growth will continue." Next on the calendar will be Regional Championships for Regions 5, 6, and 8 to be held this weekend (September 18 - 21), followed by Region 7 on September 25 - 28, Region 1 on October 2 - 5 and Regions 2 and 9 on October 9 - 12, with Region 3 closing out the qualifying calendar on October 16 - 19 in Wellington, Fla.
In response to member feedback and as part of ongoing efforts to make the Finals increasingly competitor-friendly, USDF has announced the addition of expanded awards opportunities for this November's event. Added to the championship class list by popular demand are freestyles for the Adult Amateur division, offering titles for First, Second, Third and Fourth Levels as well as Intermediate I and Grand Prix. In addition, all-new High Score Breed Awards will be offered at the Finals for national and FEI levels for both Open and Adult Amateur competitors. To date, 31 breed organizations have elected to participate in this special High Score Breed Award program.
"From the very beginning, the concept of these Finals was for this event to serve our members and offer them a chance to compete on the national championship stage, regardless of level or division," noted Williams. "Even though last year's inaugural Finals were an overwhelming success, our number-one priority was to gather feedback as to how USDF could continue to improve the event and offer our members even more opportunities. So I am delighted with these developments and I'm looking forward to an even bigger and better Finals this November."
To learn more about the US Dressage Finals presented by Adequan®, download competition information, declare and nominate for the Finals, and sign up to receive news and updates, visit the official event website at www.usdressagefinals.com.
Founded in 1973, the United States Dressage Federation is a nonprofit membership organization dedicated to education, recognition of achievement, and promotion of dressage. For more information about USDF membership or programs, visit www.usdf.org, email usdressage@usdf.org, or call (859) 971-2277.