Continuing Education in Dressage Judging
This Continuing Education Program was developed by the USDF Judges Committee to provide continuing education opportunities, on a regional level, for licensed judges and USDF "L" Graduates and those enrolled in the USDF "L" Program.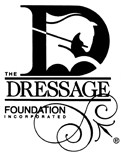 These programs are to be implemented on a regional level through a Group Member Organization (GMO), USDF region, or other USDF approved organizations. Regional grants are available for this USDF program. The continuing education program and organizers must meet grant requirements in order to be eligible to receive the regional grant. The grant requirements and application are available on our forms and documents page.
Grants for this USDF program funded are by The Dressage Foundation's Edgar Hotz Judges' Fund.
If you are interested in organizing, participating or instructing a 'Continuing Education in Dressage Judging Program please contact our USDF Programs Coordinator, at (859) 971-2277 or lprogram@usdf.org.