Quadrille
Check out this article on eTRAK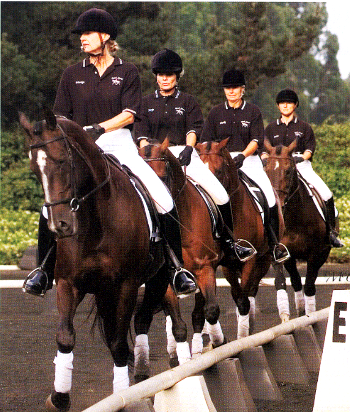 Go Four it
Quadrille is most simply defined as team riding. The most famous, readily identifiable quadrilles are those of the Spanish Riding School, the Cadre Noir and the Royal Canadian Mounted Police.

Although quadrille has been performed as an equestrian pageant since the Baroque period, it has become a competitive sport in this country only recently. Competitive teams of four riders perform both compulsory and musical freestyle routines. It is an activity suitable to persons of all ages, including youth groups such as 4-H and Pony Club.

Quadrille offers equestrian education in riding, training, and rider/horse communication in a group atmosphere of teamwork and camaraderie. It's a great way to get green riders and horses used to competing without a lot of pressure, and, its fun!
If you have questions please email Quadrille@usdf.org