Issues with USDFScores.com? How can we help?
Issue: How do I find my horse or rider scores?
Answer: Once you've logged in, click the
magnifying glass to bring up the search page, where you can enter your horse or rider name.
---
Issue: Certain features like advanced search and score charts look funny.
Answer: USDFScores.com is optimized for the following browsers:
We appreciate your feedback, so please use the USDF Contact Us page to let us know what kinds of issues you are experiencing.
---
Issue: What do the different colors on my score report mean?
Answer: Great American/USDF Qualifying Ride scores are highlighted blue. Breed Restricted scores are highlighted orange. All other scores will appear off-white.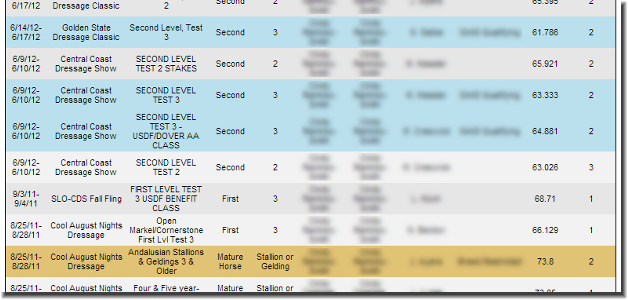 You can customize your report to show only the rides with special designations by using the buttons and filters at the top of the report.

---
Issue: My report is missing competition scores.
Answer: Be sure you have the correct name and USDF# on the top right of the report. If the score is not from the current competition year, you will need to access the lifetime score check (available to business and participating members).
The owner is responsible for contacting the rider (if different from the owner) and checking and verifying all information presented on this score check.
All corrections MUST be received at the USDF office by 5:00 pm, EST on October 15. No changes to year-end awards will be made after that date.
Submit corrections to USDF, 4051 Iron Works Parkway, Lexington, KY 40511, Fax: (859) 971-7722 or email to scorecorrections@usdf.org. For specific questions regarding scores, Vintage Cup or Adult Amateur contact our Competitions Department at Competitions@usdf.org or (859) 271-7895. For questions about the All-Breeds Awards program please contact a Competition Coordinator at AllBreeds@usdf.org or (859) 971-7361.
---